VIA – SANTA CRUZ PATCH
Three Rescued from Big Waves Sunday
No one was injured but exhausted boarders and surfers had to be pulled from the water.
Big waves and lots of sunshine had the Santa Cruz Fire Department working hard Sunday, but luckily, with three calls for rescues, no one was hurt.
The first report was at Mitchell's Cove on West Cliff Drive, where someone called in a report that two surfers were struggling to get out of the water. They were on the beach by the time fire crews arrived.
A third surfer was having trouble while the rescue crew was there and lifeguards used a personal water craft to pull him from beyond the breakers. He refused medical treatment after he was brought ashore.
An hour later at Mitchell's, a woman on a boogie board was rescued by a bystander after she became exhausted. Fire department paramedics and rescue swimmers helped her up the cliff….
For the full article go here:
http://santacruz.patch.com/articles/three-rescued-from-big-waves-sunday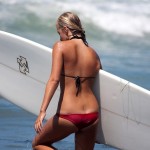 Become A Sponsor!
If you have a product or service that is a good fit for our surf community, we have opportunities for you to sponsor this blog!
Download our media kit now!