VIA – OC REGISTER


Photo: Beachwatch reporter Laylan Connelly wades out into the water at Baby Beach in on a Dana Point Harbor to experience the sport of paddleboarding. ////ADDITIONAL INFO///beachwatch.pxx shot 100308 Steve K. Zylius, The Orange County Register. Beachwatch reporter Laylan Connelly learns paddleboarding from instructors Ellen Petrus, Steve Boehne, and Barrie Boehne, and Michael DiDomenico at Baby Beach in Dana Point Harbor.
Rules, where to go for Stand Up Paddles in O.C.
By LAYLAN CONNELLY / THE ORANGE COUNTY REGISTER
When Stand Up Paddles first hit the scene a few years ago, there was skepticism among surfers that this new breed of boarders would last.
But as each year passes, we see more and more of the SUPs out on the water, and there's no doubt that Stand Up Paddle is here to stay.
There's many different ways water-enthusiasts enjoy SUPs – some surf them, some like to cruise the calm harbors, others take long treks down the coastline. There are races nearly every month in local waters, with more added to the calendar each year.
Perhaps the biggest proof of the success of SUPs is in the numbers. In the 2010 Surf Industry Manufacturers Association Retail Distribution Study, the group for the first time incorporated sales figures from Stand Up Paddles. SUPs generated $14.5 million in sales among core surf shops, making up 9 percent of all surfboard sales.
It is the most expensive of the surfboards – with an average cost at $1,105.
In the future, there's no doubt that SUPs will be the way for inlanders to connect with the water at lakes or rivers.For now, I take you on a journey down the Orange County coast to some of the SUP hotspots, starting first at the canals in the Huntington Harbour, then to the beautiful estuary of the Back Bay in Newport Beach, and finally to Dana Point – considered a hub for the growing sport.
For the full story go here:
http://www.ocregister.com/articles/stand-316884-water-paddle.html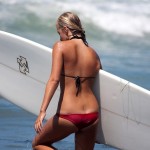 Become A Sponsor!
If you have a product or service that is a good fit for our surf community, we have opportunities for you to sponsor this blog!
Download our media kit now!