Sounds killer…
VIA – ESPN


Rip Curl Flash Bomb ($400)
Say good bye to cold, soggy wetsuits, the Flash Bomb's dry in a flash
Updated: September 14, 2011, 11:46 AM ET
By Jake Howard
ESPN Action Sports
Archive
This fall you could wear your wetsuit from last year. You could. You could dig it out from the back of the garage, dust it off, check the sleeves for black widows, and you'd be good to go. Oh, but the glory of a new wetsuit. It's hard to resist.
Coincidentally, Rip Curl reached out to us a couple of weeks ago to see if we'd be interested in "field testing" their new Flash Bomb wetsuit — a solicitation that just so happen to coincide with a dramatic drop in the Pacific Ocean's temperature. Due diligence in mind, we entertained the offer and went surfing. The result: think furry convention meets Mick Fanning.
The immediate reaction upon first climbing into the fuzz-lined 3-mil: "Mmm, cozy." It's like putting on a pair of fleece pajamas, or maybe a mink coat, or maybe if you're Matt Wilkinson a cheetah costume you can surf in. It's got all the flex and comfort of a normal top-of-the-line suit, but thanks to Rip Curl's "Flash Dry" lining, it has an extra little tickle in it. The claim to fame is that the Flash Bomb dries in 30 minutes or less. The selling point is that you won't ever have to sling on a soggy suit again. Does Rip Curl pull either off? Pretty much, yep.
"The Flash Dry lining is what we call a double-layer knit fabric." says P.J. Elbing, Rip Curl's Director of Technical Products. "When water hits the top layer it wicks to the second layer of the material. When the water hits the second layer, gravity allows it to drip down and out the bottom of the panel. The result is a lining that is dry and warm to the touch within 30 minutes."
Why it rules:
The idea of never putting on a wet wetsuit is pretty dang enticing. As Taylor Knox says, "I used to have to have a quiver of wetsuits, but not any more." Because you can take the suit off, and literally in 30 minutes it will be dry to the touch (I timed it, mine took 18 minutes in the sun before it was good to go again), the worry of cold dawn patrols and shocker lunch sessions is severely mitigated.
"Our development team spent over two years testing and refining the new Flash Dry material," says Elbing. "We went through six versions to arrive at a point where drying time, flexibility, weight, and durability were up to our highest standards. We performed both in-field and lab tests on new developments to quantify key variables such as stretch, weight, warmth and durability. Once we fine-tuned these attributes, we were ready to release the suit."
The seams are taped on the inside and out, so not a drop of water leaks through, which makes the suit all the more toasty. And with the chest zip version you don't get any seepage from the zipper. (A back zip model is available for $30 less, and I'm sure it works fine.) All told, it's a very warm, very well designed suit that feels like it'd would keep you warm even when the water temps start to dance in the low 50s.
For the full article and wetsuit review, go here:
http://espn.go.com/action/surfing/story/_/id/6969029/rip-curl-flash-bomb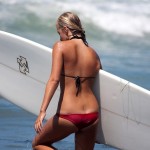 Become A Sponsor!
If you have a product or service that is a good fit for our surf community, we have opportunities for you to sponsor this blog!
Download our media kit now!