VIA – DAILY MAIL UK
Ruling the waves, Harry and William: Princes enjoy an afternoon body boarding instead of watching the tennis
By
Colin Fernandez
PUBLISHED:
16:32 EST, 8 July 2012 |
UPDATED:
16:32 EST, 8 July 2012
When he was offered a coveted seat in the Royal Box for the Wimbledon final, Prince William said an 'existing commitment' would prevent him from attending.
And yesterday it became clear just what had been so important – a day of messing around on a surfboard with his younger brother.
Leaving his tennis-mad wife Kate to share in the nation's agony as Roger Federer shattered Murray's hopes of Wimbledon glory, Prince William was snapped on a public beach in cornwall catching some waves.
Man in black: Prince William strides down the Cornwall beach and opted to spend the day with his brother Harry instead of watching the Wimbledon men's final
Princes Harry and William were joined by a group of friends as they enjoyed a day of body boarding and bonding on a beach in Cornwall
Dressed in a black wetsuit, he joked with brother Harry as the pair braved the stormy weather and enjoyed some brotherly bonding.
Prince William also went surfing for his stag do – although on that occasion he chose to go to Devon.
Yesterday Pippa Middleton kept her sister the Duchess of Cambridge company in the Royal Box as they watched Andy Murray lose to Roger Federer.
Federer played an incredible game and beat Britain's Andy Murray 4-6, 7-5, 6-3, 6-4 and matched Pete Sampras's record of seven Wimbledon singles titles.

Being interviewed after the game, he said of his opponent. 'He [Murray] has done so well over the years and it [his tears] shows he cares so dearly about his tennis.

'He will win one grand slam at least. I hope so. It's worked out here that I have played my best tennis in the semis and the final.

'I couldn't be more happy. It feels so familiar and it's a great moment. It's amazing. It equals me with Pete who is my hero, and the world No1, they don't get gifted to you.'

Prince Harry, right, and his brother William went unnoticed by members of the public as they messed around on the body-boards with their friends
Harry gestures towards his friends as his sister-in-law Kate enjoyed a day at the tennis with her sister Pippa Middleton
The Duchess of Cambridge chose to spend the day with her sister Pippa at the Wimbledon men's final while her husband enjoyed bonding with his younger brother Prince Harry
The Middleton sisters, both avid tennis players themselves, clearly enjoyed watching the final at Wimbledon
Roger Federer beat Britain's Andy Murray in the final and took home his 17th Grand Slam title and seventh win at Wimbledon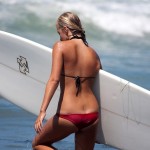 Become A Sponsor!
If you have a product or service that is a good fit for our surf community, we have opportunities for you to sponsor this blog!
Download our media kit now!