VIA – ABC
Surfers farewell murdered mate
Updated July 09, 2012 11:17:20
About 150 surfers gathered at Alexandra Headland on the weekend to farewell Sunshine Coast surfer Mark Ovenden, who was killed while holidaying in Bali last month.
Indonesian police are continuing to investigate the 34 year old's murder after his body was found by the side of the road in South Kuta.
Mr Ovenden's friend of 20 years, Kerry Keightley, says friends and family paid tribute to the surfer, who touched the lives of many.
"There was never a bad bone in Mark's body and I really think that will be his legacy and it will be something that [they] remember him [for], will live their life by and try to make changes in their lives to be a bit more like Mark," he said…
For the full article go here:
http://www.abc.net.au/news/2012-07-09/surfers-farewell-murdered-mate/4118428/?site=sunshine&microsite=&section=news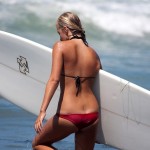 Become A Sponsor!
If you have a product or service that is a good fit for our surf community, we have opportunities for you to sponsor this blog!
Download our media kit now!