VIA – PEDESTRIAN
Sally Fitzgibbons Talks Perfect Tens, World Titles And Surfing Dates Gone Wrong
Sally Fitzgibbons is the number one female pro surfer in the country and the likely successor to seven time world champion Layne Beachley. Last year she was ranked #2 at the ASP World Surfing Awards and was this year named Australian Female Surfer of the Year (among other awards) but what she really wants is a World Championship…or maybe a dinner date with Kobe Bryant. Earlier this week we caught up with Sally to discuss her current world title hopes, perfect tens and surfing dates gone wrong.
Hey Sally what are you up to? Right now I'm on the beautiful South Coast training up and getting ready to go to Brazil tomorrow for the next world tour event. It's a pretty fun life to lead but we're working hard and chasing those goals of a world title.
And which girls are you close to on tour? I do get along with every girl on the tour for sure. There's a good variety of ages and nationalities and that's great to be exposed to but I'm particularly close with my good friend Tyler Wright. We grew up together on the South Coast here and we've hung out since we were ten years old so she's probably my closest friend.
So is it world championship or bust? That's definitely the mindset. When I started the season that was my big goal and it's definitely achievable. I just have to post some good results in these next three events and have everything click together. I'm definitely feeling strong and ready to give it a good crack.
You're only 21 and you've accomplished so much already but who did you look up to growing up as a young woman? Initially, from a surfing stand point, it was my three older brothers. I looked up to them and all the sports they played and that's really how I got my passion for sport, just trying to better them and beat them (laughs). Lisa Andersen and Layne Beachley obviously, they were dominating in the era when I was a grom so I looked up to them and how they were winning their world titles and having so much fun traveling the world.
Do you know automatically if you've ridden a ten? It's so reliant on the conditions themselves and a perfect ride is so hard to come by but you do know when you've surfed a wave amazingly you get that felling – a bit of numbness and adrenalin pumping through you. You can definitely tell if you've got a high score but sometimes it'll come out as a 9.8 so you can never fully assume. It's a special feeling to actually get a ten.
Bad segue here but can you spot a perfect ten guy too? (Laughs) I meet so many different people from so many different cultures so what I always look for is people who are friendly and compassionate. That's a quality which transcends cultures obviously and something which I look for in people that I want to get to know or surround myself with. That's my main criteria. I also like people who are enthusiastic or who might share a similar passion even if it's as simple as enjoying the beach. That's the kind of person who attracts my attention.
Have you ever dated a non-surfer? I've dated non-surfers for sure though they've still all been in the sporting world to some degree. People that I've dated have always had some interest in sport and that's something that I really value. It brings us together. Whether they're an athlete or not it's definitely a big plus if they've got an interest in sport.
What's it like trying to maintain relationships with so much traveling? It's extremely hard. You don't spend too much time in one spot and you can meet someone that you really enjoy spending time with but then you're on the plane and you don't know when you're going to see them again. At this stage in my life I'm just trying to enjoy each moment as it comes and spend time with someone that I like when possible but yeah, I don't really have those committed long distance relationships.
What's the worst date that you've ever been on? I haven't had too many bad dates but I did once take a guy surfing as a date and it ended up terribly. I jumped off the rocks first and showed him where to jump off but then a wave came through and he got absolutely destroyed on the rocks. It didn't go too smoothly. He got really cut up and I was feeling bad (laughs) and there was some tension. It wasn't the best start to the date but we smoothed things over. He looked past it but he said that I had definitely led him astray.
What advice would you give to young groms coming up? I think you have to believe that anything's possible. Success, especially in sport, is a byproduct of work and commitment but you have to really believe that you can do it. Get your head down and work really hard and if you love surfing that shouldn't really be a problem. There will be plenty of setbacks and learning experiences but just keep watching your favourite surfers and see how they ride and how they conduct themselves. Most importantly though, I'd tell them to keep that fun element to it because I really do consider it a passion more than a sport and it's important to maintain that love for it and never forget why you're out there in the first place…
For the full article go here:
http://www.pedestrian.tv/pop-culture/features/sally-fitzgibbons-talks-perfect-tens-world-titles-/74500.htm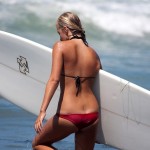 Become A Sponsor!
If you have a product or service that is a good fit for our surf community, we have opportunities for you to sponsor this blog!
Download our media kit now!