YEAH PETE!!!
VIA – SANTA CRUZ SENTINEL

Peter Mel surfs to victory at Pico Alto in Peru. The win in the… (Piero Marotta/contributed photo)
Surfing: Mel named Big Wave World Tour champion
By JULIE JAG
Posted: 05/04/2012 01:30:57 AM PDT
Peter Mel cemented his legacy as one of the best big wave surfers to come out of Santa Cruz long before he rode the glassy walls at Pico Alto in Peru last summer.
Sure, he hadn't won any notable events in his more than 25 years of competing, but he was always close, often tasting the spray of celebratory beer but not getting showered in it. Mel made the best of it, but by his own admission, the lack of first-place placards created a bit of a cloud over his otherwise illustrious career.
Well, Mel doesn't have to worry about that anymore. That's what putting Big Wave World Tour Champion in front of his name can do for a guy.
"For obvious reasons, I'm very excited about it. Any time you throw a world title in front of anything, it's what it says. It's an achievement," said Mel, who accepted the award on April 29. "It's not something I thought I would achieve in my dreams
"I've always been the bridesmaid," he added. "I had a respectable surf career that includes big waves. I can hang my hat on that and say I achieved something. I wasn't the Eddie [Aikau Invitational] champion — at least not yet — and I wasn't a Maverick's champion, but I have a nice agave, hand-shaped board shaved by Gary Linden."
Linden, a longtime judge of big wave events, including Maverick's, started the Big Wave World Tour three years ago. Tying together established events across the globe, like Nelscott Reef Classic and The Peligroso at Todos Santos, it is the big …
For the full story and photos go here:
http://www.santacruzsentinel.com/outside/ci_20546186/surfing-mel-named-big-wave-world-tour-champion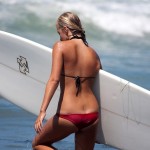 Become A Sponsor!
If you have a product or service that is a good fit for our surf community, we have opportunities for you to sponsor this blog!
Download our media kit now!