VIA – MERC NEWS
Free July 19 screening to help check for skin cancer
Posted:   07/11/2012 07:36:11 PM PDT
Updated:   07/11/2012 07:42:32 PM PDT
CAPITOLA – With all the sun and surf available year-round in Santa Cruz County, the body's largest organ – your skin – often takes a beating.
O'Neill Surf Shop is helping beachgoers and sun lovers get ahead of skin cancer by holding a free screening July 19 at the 41st Avenue store.
Ten local dermatologists will volunteer their time to examine any one who shows up. In years past, the line has stretched around the block before exams begin.
O'Neill spokesman Elfin Saffer, a skin cancer survivor, said he expects more than 200 people to participate in the 20th annual screening.
Private dressing rooms with doctor's lights will be set up in the parking lot. Clients will be expected to fill out liability forms prior to being seen by a doctor, Saffer said.
Doctors will examine moles and skin discolorations, and make referrals for removals as necessary.
"The sun is so damaging," Saffer said. "Just to be seen by a dermatologist is a lot of money. I've talked to a lot of people who've said they never would have seen a doctor if they hadn't gone here.
"We want to create awareness and tell people to play it safe."
Free samples of BurnOut sunscreen, created by UC Santa Cruz graduate and surfer Kevin Dunn, will be given away…
For the full article go here:
http://www.mercurynews.com/breaking-news/ci_21054845/free-july-19-screening-help-check-skin-cancer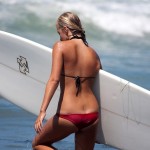 Become A Sponsor!
If you have a product or service that is a good fit for our surf community, we have opportunities for you to sponsor this blog!
Download our media kit now!