VIA – SANTA CRUZ PATCH


Hollywood Surf Movie Seeks Local Extras: Surfers and Families
The movie about surfer Jay Moriarity will be filming in Santa Cruz mid-October.
By Brad Kava
4:03pm
A movie about Santa Cruz big wave surfer Jay Moriarity, who died at the age of 22, is seeking extras to be in scenes filmed in Santa Cruz in October.
Moriarity was well known in the local surfing communities of Santa Cruz, Half Moon Bay, and Pacifica as conquering the world-famous surf break Mavericks as a teenager.
Mavericks is located less than a mile past Pillar Point Harbor just outside Half Moon Bay.
Last year, the organizers of the 2010-2011 Mavericks surf contest named the contest The Jay At Mavericks Big Wave Invitational in memory of the Santa Cruz surfer.
The extras won't be paid, but there will be drawings for prizes.
The movie needs hundreds of surfers and families. The surfers will be filmed at Steamer's Lane and Pleasure Point and the families at the Santa Cruz Beach Boardwalk.
The as-yet-untitled movie is being directed by Curtis Hanson the man behind LA Confidential and 8 Mile.
Gerard Butler, who starred in 300, plays Moriarity's mentor (Rick "Frosty" Hesson), and 22-year-old Jonny Weston will play the lead role.
Moriarity, born in George and raised in Santa Cruz, was an iconic surfer who at 16 started surfing at Mavericks and helped bring the big waves to national prominence. One of his early wipeouts was caught on film and made the cover of Surfer magazine.
When he was 12 he met his mentor, Rick "Frosty" Hesson, a veteran surfer, lifeguard and collegiate swimmer. Moriarity talked him into taking him under his wing and training him for the biggest waves. The movie is said to be a tale of struggle, redemption, and a purity of soul that affected all who knew Moriarity.
Moriarity died a day before his 23rd birthday in a diving accident in the Maldives.
Some of the local scenes include a day at the Boardwalk, with Moriarity and his future wife, Kim. Hundreds of people will be needed for it.
For the full story go here:
http://santacruz.patch.com/articles/hollywood-surf-movie-seeks-local-extras-surfers-and-families
For photos of Gerard Butler training in Malibu for the new movie 'Maverick's' go here:
http://surftweeters.com/?s=gerard+butler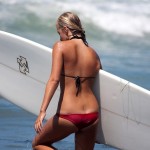 Become A Sponsor!
If you have a product or service that is a good fit for our surf community, we have opportunities for you to sponsor this blog!
Download our media kit now!