VIA – MANHATTAN BEACH


Surfers Paddle Out to Honor Yamada
Russ Yamada's friends paddle out in Manhattan Beach to remember their fellow surfer who died while surfing large waves at San Onofre Sept. 3.
By Geoffrey Nielsen
2:35pm
The South Bay surfing community came together at 26th Street in Manhattan Beach Sunday to bid farewell to one of their own in a paddle out ceremony for a fellow surfer who died while surfing two weeks ago.
Russ Yamada, 42, a longtime Torrance resident and an avid surfer and fisherman, suffered a fatal heart attack while surfing large swells with friends at San Onofre State Beach on Sept. 3.
More than 100 people from across the South Bay paid their final respects in a traditional Hawaiian paddle out ceremony. The surfers joined hands and formed a circle in the water, said a prayer for Yamada, tossed flower lies and splashed water to signify their loss.
"He was everyone's friend," his brother Scott said. "It has been very difficult for all of us but we are least comforted to know that Russ passed away doing what he loved most."
For the full article go here:
http://manhattanbeach.patch.com/articles/surfers-paddle-out-to-honor-yamada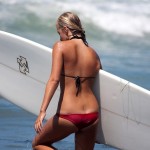 Become A Sponsor!
If you have a product or service that is a good fit for our surf community, we have opportunities for you to sponsor this blog!
Download our media kit now!