VIA – SANTA CRUZ SENTINEL


Neil Pearlberg, The Perfect Write: Mel, H'dez represent Santa Cruz, Northern California
Posted: 08/07/2011 01:30:13 AM PDT
It seems nowadays that you have to look long and hard for a feel-good story, especially in the world of sports. While the industry is seemingly crippled by scandals, holdouts, lockouts and other negativity, there is a story about two fine young men who not only compete against each other, but who also coach each other, push each other to get better, and, most importantly, cherish their friendship.
Santa Cruz's John Mel and Nic H'dez, 11 and 14 years old respectively, are together spearheading the future of competitive surfing by representing their hometown, and also Northern California, as invitees to the PacSun USA Junior Surf Team.
Surfing America, recognized by the International Surfing Association as the official governing body for surfing in the United States, is the official event organizer for the USA Surfing Championships. The event selects our country's surf team, which will compete against 60 other countries in 2012.
To qualify, both Mel and H'dez lit up the surfing world with performances that set them apart in the water earlier this year.
On June 25 at the Lower Trestles break off San Onofre State Beach, the crowd watched in awe as Mel ripped through the waves with a series of fluid back-side hacks. After receiving a rare perfect score of 10 to win the 12-and-under division, he was hoisted onto the shoulders of his friends — one being H'dez, of course — and taken across the beach to the winner's podium on a sea of cheers.
For the full story and all the photos, go here:
http://www.santacruzsentinel.com/sports/ci_18633221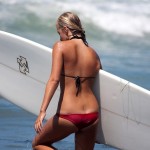 Become A Sponsor!
If you have a product or service that is a good fit for our surf community, we have opportunities for you to sponsor this blog!
Download our media kit now!