VIA – SURFER NANCY'S BLOG


Sunday, August 7, 2011
Thanks for the barrels, Emily!
We were scrambling to figure out where to surf this morning. The tide wouldn't be low until 9am, so it was a waiting game that was hard to endure. The reports were sounding good, and just how long could we wait? We have waited for an offshore wind with a swell for… how long? I managed to wait until 8:15.
Andy said Mark's girlfriend reported Tenth Street was zooed out already. Maybe we should surf your ramp, I said. He would check it while I checked Tenth.
The parking lot was nearly full when I got there. Ugh. I told Andy that if I didn't call in ten minutes, I would be going out there. As I got to the top of the dune line, I could see it was actually LESS crowded than yesterday! The swell looked a tad larger and ultra clean. I was out there in five minutes. It seemed funky at first. I mean, it looked perfect, groomed and peeling off nicely, but it felt like the currents were pulling at it and not really what I had hoped for. Once the tide filled in, things got much better. Once I drifted down closer to 16th street, where I met up with Chuck T., things were getting much more interesting.
For the full story and all the photos, go here:
http://surfernancy.blogspot.com/2011/08/thanks-for-barrels-emily.html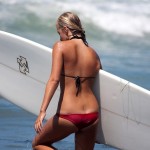 Become A Sponsor!
If you have a product or service that is a good fit for our surf community, we have opportunities for you to sponsor this blog!
Download our media kit now!