I was not stoked today battling for walls of water lol…ok I was stoked. But a certain old cranky man (name will not be mentioned) was not stoked so I can vouch for this article lol.
VIA – KSBW


Surfers Not Stoked On Movie Shoot At Pleasure Point
By Amy Larson, KSBW.com
POSTED: 12:20 pm PDT October 12, 2011
UPDATED: 5:28 pm PDT October 12, 2011
KSBW
Pleasure Point is blocked off because of a movie shoot on Wednesday. (Oct. 12, 2011)
CAPITOLA, Calif. — Surfers who were ready to shred Santa Cruz's waves ran into a major bummer this morning: Hollywood had come to town.
Every day, hundreds of surfers hit up Pleasure Point in Capitola and battle each other for the biggest walls of water. Pleasure Point rivals Steamers Lane, which is farther north in Santa Cruz, for hosting the hottest break.
Stretching along East Cliff Drive, surf spots – O'Neill's (where Jack O'Neill's house is), Sewer, First Peak, Second Peak, 38th Avenue, Drain Pipe, The Hook, Shark's, Privates and Trees – all have perfect breaks on most days.
On Wednesday, the surf was pumping as a strong swell generated eight-foot waves. But yellow tape and security guards blocked surfers off. A film crew had taken over Pleasure Point starting on Tuesday and turned it into a movie set.
Ironically, the movie is about them.
The film crew is shooting a movie on the life of infamous surfer Jay Moriarity, who grew up in Santa Cruz, trained at Pleasure Point and began surfing Mavericks in Half Moon Bay at age 16.
After going through a few name changes, the movie is currently titled "Of Men and Mavericks."
The movie is being directed by Curtis Hanson and stars Gerard Butler. Surfer Jonny Weston, 22, was cast to play Moriarity for his wave ripping and acting skills alike, and Butler is playing Moriarity's coach and mentor Rick "Frosty" Hesson.
Movie producers said they will remain at Pleasure Point for the rest of this week.
On Friday, the crew will need the same surfers they irked today. Hundreds of extras are needed to re-enact a paddle-out that happened in 2001, when Santa Cruz's surfers honored Moriarity soon after he died.
For the full article go here:
http://www.ksbw.com/r/29465096/detail.html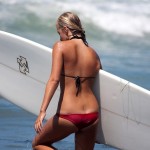 Become A Sponsor!
If you have a product or service that is a good fit for our surf community, we have opportunities for you to sponsor this blog!
Download our media kit now!