VIA – HERALD SUN


Stephanie Gilmore voted sportswoman of year
AAP
October 13, 2011 6:20AM
Stephanie Gilmore has been named the sportswoman of the year in a poll of more than 40,000 people. Picture: AP AP
SURFER Stephanie Gilmore has won the inaugural Women's Health sportswoman of the year award.
Voted on by more than 40,000 members of the public, Gilmore pipped a star field, with the award presented at a gala event at the MCG last night.
Sally Pearson, who won the hurdles at the world athletics championships in South Korea in September, and US Open tennis champion Samantha Stosur were among those beaten to the award by Gilmore.
The 23-year-old from Tweed Heads in northern NSW had a slow start to the world surfing circuit following an attack late last year outside her Gold Coast unit, which resulted in a broken wrist.
After winning the past four world titles, she finished third in this year's race.
The awards were judged on performances over the past two years.
Start of sidebar. Skip to end of sidebar.
End of sidebar. Return to start of sidebar.
Women's Health magazine editor Felicity Harley said Gilmore embodied the spirit of the "I Support Women In Sport Awards" in its entirety.
"Steph's dedication and commitment to sport – and her amazing…
For the full article go here:
http://www.heraldsun.com.au/sport/gilmore-voted-sportswoman-of-year/story-e6frfglf-1226165430894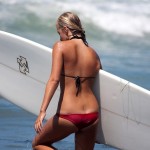 Become A Sponsor!
If you have a product or service that is a good fit for our surf community, we have opportunities for you to sponsor this blog!
Download our media kit now!