VIA – SANTA CRUZ PATCH
Three Victims Rescued from Capitola Waters

A Pleasanton man and with two surfers were rescued from the waters near Pleasure Point and Private Beach on Saturday afternoon.
A 49-year-old Pleasanton man was picked up by rescue swimmers Saturday afternoon, after he was spotted struggling in the water around the area of Private Beach in Capitola, said Central Fire spokesman Mike DeMars.
The Santa Cruz Harbor Patrol spotted the man around 2:30 p.m. on Saturday and deployed rescue swimmers to the scene. After contact was made, the harbor patrol went out and picked up the rescue swimmers and victim, who were then transported back to shore. The victim reportedly had minor scrapes, but was not transferred to the hospital.
The Pleasanton man was actually picked up just down the road from two other victims who were scene struggling in the waters around Pleasure Point, DeMars said.
Central Fire was dispatched to a call of two people in distress around the Pleasure Point area in the earlier afternoon. Capitola lifeguards reportedly picked up a man and a women floating on one surfboard…
For the full story go here:
http://santacruz.patch.com/articles/three-victims-rescued-from-capitola-waters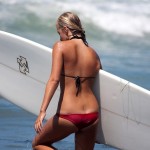 Become A Sponsor!
If you have a product or service that is a good fit for our surf community, we have opportunities for you to sponsor this blog!
Download our media kit now!