VIA – YAHOO
Sarah Burke's Medical Expenses a Reminder of the Shortcomings of American Healthcare
By Samantha Van Vleet, Yahoo! Contributor Network Jan 24, 7:24 pm EST
Canadian X Games skier Sarah Burke passed away on January 19th following a training accident in Utah. Burke crashed, causing her vertebral artery to rupture. Burke went into cardiac arrest resulting from the rupture and her brain was deprived of blood and oxygen, ultimately leading to the irreversible brain damage that caused her death. Burke's organs and tissues were donated as according to Burke's wishes prior to her death. Burke was only 29-years-old at the time of her death. (See my article, "Olympic Favorite Sarah Burke Dies At 29 Following Training Accident")
Burke's medical expenses weren't covered
Burke was a Canadian citizen and did not have private health insurance to cover medical expenses. As a Canadian citizen, Burke did not need health insurance as Canada has a universal healthcare system in place, known as Canada health. Burke's accident, however, occurred in the United States and Burke's care was provided at an American hospital. Because Burke received her care at an American hospital, the costs associated with her care will most likely not be coveredby Canada Health. Canada Health may cover a small percentage of the bill, however, the price of American healthcare is greatly inflated in comparison to the cost of healthcare in Canada.
Donations to cover Burke's medical expenses
Burke's family was facing medical bills expected to be over $200,000 for the care Burke received in the Utah hospital prior to her death. Burke's agent, Michael Spencer, quickly organized a fundraising effort to help cover Burke's expenses. Fortunately for Burke's family, this effort was largely successful and Burke's family was able to raise nearly $300,000 so far. Donations in excess of what is needed to cover Burke's medical expenses will be used toward Burke's memorial expenses and to establish a foundation in honor of Burke.
Burke's death brings attention to insurance concerns
Had Burke's accident occurred while she was in Canada, Burke's medical expenses would have been covered completely by Canada Health, however, because she was in the United States when her accident occurred, the bill was not covered. Burke's death has brought the public's attention to the difference in healthcare costs between the United States and Canada…
For the full article go here:
http://sports.yahoo.com/ski/news?slug=ycn-10880603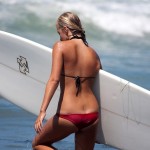 Become A Sponsor!
If you have a product or service that is a good fit for our surf community, we have opportunities for you to sponsor this blog!
Download our media kit now!