Big-Wave Addicts Episode 3
Uploaded by XTremeVideo on Jan 27, 2012
FAV/LIKES Please:) Big WAVE Surfing Palylist: http://www.youtube.com/playlist?list=PLDB5CA2E24C07AF4Cj
December 21, 2011
Towsurfer.com News
Big-Wave Addicts Episode 3
When the charts in the Pacific Northwest read 10′-12′ @ 17-19 seconds out of the NW with light easterly winds there are a handful of big wave chargers that live in the area, know where to go and what to do. As was the case on December 17, 2011 when the swell was in full bloom, with clear sunny skis and mysto waves breaking on the outer reefs. Eric Akiskalian, Keith Galbraith, George DeSoto, Ollie Richardson, Craig Spjut and a couple others got the best swell of the season thus far and there were plenty of waves to go around. The 3rd episode of Big-Wave Addicts reality youtube show was captured by photographers Tyler Roemer and Skye Anderson. GoPro HD video footage was also captured from Eric's towboard during this 15′-18′ swell which displays the beauty and power of this amazing day.
"It was one of those perfect days along the coast with sunny blue skys, great waves and good friends to share the day with. It was the best swell of the season so far and a good warm up for the XXL swell(s) we are hoping to ride in the coming months."-Eric Akiskalian, 2011 Billabong XXL Big-Wave Awards Nominee
Photo Gallery By Tyler Roemer Here: towsurfer.com/Photo/ViewGallery.asp?PhotoGalleryID=187
The X-Treme Channel features awesome extreme sports action from all over the world!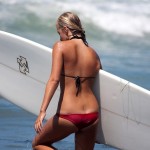 Become A Sponsor!
If you have a product or service that is a good fit for our surf community, we have opportunities for you to sponsor this blog!
Download our media kit now!