VIA – TIMES UNION
Judge won't halt anti-whaling group's activities
Updated 07:39 a.m., Saturday, February 18, 2012
In this photo taken on Sunday, Feb. 12, 2012 and released by Sea Shepherd Conservation Society, Sea Shepherd Conservation Society activists on an inflatable boat attempt to distract the Japanese whaling vessel Yushin Maru No. 2 during an encounter by the whalers and anti-whaling activists in the Antarctic Sea. EDITORIAL USE ONLY (Sea Shepherd, Billy Danger / AP)
SEATTLE (AP) — A federal judge in Seattle declined to immediately restrain the activities of a Washington state-based anti-whaling group Thursday.
Judge Richard Jones said he would issue a written ruling later, but that he's inclined to deny a request for a preliminary injunction made by Japanese whalers against the Sea Shepherd Conservation Society.
The whalers — the Institute for Cetacean Research — said the Sea Shepherd group has attacked and rammed their ships off Antarctica during the whaling season, and asked the judge to order them to stop. Some of the clashes have been shown on the "Whale Wars" reality TV show.
Sea Shepherd activists use stink bombs and other nonlethal means to interfere with the whalers. The group argues that its activities are supported by international law, that the court doesn't have jurisdiction in the Southern Ocean, and that it's the whalers who have rammed its vessels.
"It is a victory for the Sea Shepard, for environmentalists. It's a victory for the whales," said Charles Moure, an attorney with the Seattle firm of Harris & Moure representing the Sea Shepherd.
In a federal lawsuit filed in Seattle on Dec. 8, the institute argued that the whalers are "entitled to be free from attack by what are essentially self-proclaimed pirates with a base in the state of Washington."
In this photo taken on Sunday, Feb. 12, 2012 and released by Sea Shepherd Conservation Society, the Japanese whaling vessel Yushin Maru No. 2 shoots its water cannons at the Sea Shepherd crew on a inflatable boat during an encounter by the whalers and anti-whaling activists in the Antarctic Sea. EDITORIAL USE ONLY (Sea Shepherd, Billy Danger / AP)
Japan's whaling fleet kills up to 1,000 whales a year, an allowed exception under a ruling by the International Whaling Commission. Japan is permitted to hunt the animals as long as they are caught for research and not commercial purposes. Whale meat not used for study is sold as food in Japan, which critics say is the real reason for the hunts.
Activists launched or threw glass bottles containing paint or butyric acid in one attack last year, the captain of a whaling vessel said in an affidavit translated from Japanese.
"A crew member could be blinded in such an attack," said Tomoyuki Ogawa, captain of the Nisshin Maru. "These attacks also cause fear in the crew, thus interfering with the prompt and accurate carrying out of orders."
Sea Shepherd president Paul Watson said in documents that…
Read more: http://www.timesunion.com/news/article/Judge-won-t-halt-anti-whaling-group-s-activities-3336090.php#ixzz1moRH74Mv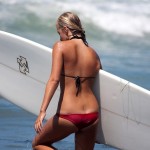 Become A Sponsor!
If you have a product or service that is a good fit for our surf community, we have opportunities for you to sponsor this blog!
Download our media kit now!