VIA – 10 NEWS SAN DIEGO
Sewage Contamination Signs Posted At Cardiff State Beach
Nearly 250,000 Gallons Of Sewage Spills In North County
ESCONDIDO, Calif. — Signs warning of sewage contamination are posted along Cardiff State Beach near the San Elijo Lagoon.
The warnings follow a sewage spill at the Escondido sewage treatment plant in the 1300 block of South Hale Avenue just before 5:30 p.m. Sunday evening.
According to The Department of Environmental Health, an electrical failure caused the nearly 250,000 gallon spill.
Crews stopped the spill within 25 minutes, but sewage flowed into the Escondido Creek, which drains into the San Elijo Lagoon. The Lagoon meets the ocean in Cardiff.
In spite of the warnings, several surfers were still in the water Monday morning. They said based on the tide, they weren't worried about contamination.
"The tide is coming in, the water will be flushing into the lagoon as opposed to going out. I wouldn't surf here if the tide was going out, then it would suck all the contamination out there," said Stuart Grauer.
For the full report go here:
http://www.10news.com/news/29011996/detail.html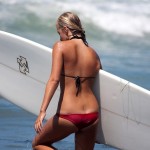 Become A Sponsor!
If you have a product or service that is a good fit for our surf community, we have opportunities for you to sponsor this blog!
Download our media kit now!