Of course Venice Beach has the diseased sea lion, where else?
VIA – DAILY MAIL


'Diseased' sea lion attacks elderly couple swimming in Venice Beach
By Jennifer Madison
Last updated at 6:37 PM on 29th August 2011
An elderly couple swimming off Venice Beach, California last week are recovering after an vicious attack by a sea lion.
The couple, described as in their 60's, were swimming around 6:30pm on Thursday evening when a seal bit the woman on her leg. The woman's husband swam over to help and was attacked and bitten on his hands, feet and head, suffering several lacerations and puncture wounds.
Officials worried the sea lion may have been poisoned by domoic acid, a neurotoxin associated with seizures and tremors.
Los Angeles County Lifeguards Captain Jeff Horn called emergency officials, who transported the couple to a local hospital for treatment.
Mr Horn told KTLA5 News the wounds appeared 'similar to what a dog bite would look like'.
Doctors treated the couple with antibiotics for fear of possible infection. Reports suggested the seal had been poisoned by domoic acid, which can be produced by harmful algal blooms in marine coastal areas.
Although sea lion attacks are rare, authorities have cautioned the public about the potential danger of sea lion attacks along the California coast in recent years, following a series of reports of sea lion bitings by large aggressive males in San Fransisco in 2006. Experts suspected the attacks were part of a territorial act.
Adult male sea lions can weigh up between 440 and 880lbs.
Awareness was heightened in 2007 after an extremely rare attack in Western Australia, when a sea lion leapt from the water and mauled a 13-year old girl surfing behind a speedboat, who was rescued as the seal prepared for a second attack.
For the full article go here:
http://www.dailymail.co.uk/news/article-2031412/Diseased-sea-lion-attacks-elderly-couple-swimming-Venice-Beach.html?ito=feeds-newsxml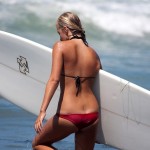 Become A Sponsor!
If you have a product or service that is a good fit for our surf community, we have opportunities for you to sponsor this blog!
Download our media kit now!