VIA – SURFLINE


Shapers Alley: Santa Cruz
Santa Cruz County has some of the most consistent, diverse and varied surf in the country, if not the world. Perfect points, slabby reefs, wedgy beachbreak, slow peelers — plus a wide-open exposure to pretty much any swell the Pacific can produce and enough varied geography and kelp to ensure that somewhere's always glassy. A surfer's dream — which means a shaper's dream, too.
"Yeah, we've got this huge variety of surf," points out longtime SC shaper Ward Coffey. "Up north you can get the big surf with solid reefbreaks, and as you move down the coast into town you get the pointbreak thing, in between there's nooks and crannies that provide wedges and ramps. And because of this variety…
For the full story and tons of killer photos, go here:
http://www.surfline.com/surf-news/shapers-alley-santa-cruz_61994/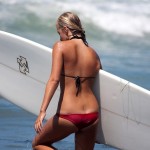 Become A Sponsor!
If you have a product or service that is a good fit for our surf community, we have opportunities for you to sponsor this blog!
Download our media kit now!