Van's HIC Pro Sunset Beach Hawaii LIVE FEED ON NOW!
"Official Trailer for the Vans World Cup in the 2011 Vans Triple Crown of Surfing"
ROUND OF 64 Results
Heats 1-14 held today. Heats 15 & 16 tomorrow.
All surfers from Hawaii unless stated otherwise.
Surfers listed in order of 1st through 4th.
H1: Joel Centeio; Makai McNamara; Cheyne Willis; Matt Pagan (USA)
H2: Robert Patterson (USA); Flynn Novak; Jared Thorne (USA); Stephan Figueiredo (Brz)
H3: Kamalei Alexander; Ian Walsh; Britton Galland (USA); Dege O'Connell
H4: Kahea Hart; Alex Smith; Rainos Hayes; Love Hodel
H5: Hank Gaskell; Albee Layer; Eli Olson; Taj Tucker (USA)
H6: Kaimana Jaquias; Jonah Morgan; Dane Anderson (USA); Olamana Eleogram
H7: Jesse Merle-Jones; Taylor Thorne (USA); Sam Orozco (USA); Nelson Sadoy
H8: Billy Kemper; Mikey Bruneau; Liam McNamara; Edrick Baldwin
H9: Ian Gentil; Jack Perry (AUS); Kalani David; Micah Moniz
H10: Eala Stewart; Tyler Newton; Koa Smith; Jason Shibata
H11: Chris Foster; Manuel Selman (Chile); Richie Collins (USA); Ezra Sitt
H12: Pancho Sullivan; Michael O'Shaugnessy (USA); Sean Moody; Keala Naihe
H13: TJ Barron; Danny Fuller; Nils Schweizer (USA); Brad Ettinger (USA)
H14: Makuakai Rothman; Ezekiel Lau; Alexander Gray (USA); Peyton Chidester
Watch the live feed on right now!: http://www.vans.com/microsites/hic-pro/webcast.html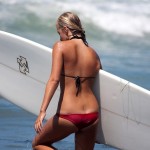 Become A Sponsor!
If you have a product or service that is a good fit for our surf community, we have opportunities for you to sponsor this blog!
Download our media kit now!