VIA – SUNSHINECOASTDAILY

Surfer's close call on video
29th November 2011
MOST surfers have stories to tell about close encounters out in the break.
The mystery shadow that passed too close.
The fin that sliced through the water and then disappeared.
But few are lucky enough to be like Adam Friend and have the proof on video.
Even without the few seconds of footage, it is not something he will forget in a hurry.
The 22-year-old sound engineer was surfing his home break at Twin Waters a fortnight ago when his heart skipped a beat.
Just metres away a large shape surfed down a wave – there one second and gone the next – but long enough for him to get a good look.


"I thought 'was that a shark or a dolphin?' because we're always seeing dolphins out there – but I sort of knew what it was," he recalled.
"My girlfriend was filming me and I went straight in and said 'did you see that?' but she hadn't noticed it.
"Then we looked at the footage and there it was right beside me.
"She wasn't real keen on me going back out after that."
Adam posted the footage on his Facebook page where it has attracted a lot off attention.
While the general consensus is that he was sharing the water with a decent-sized shark…
For the full article go here:
http://www.sunshinecoastdaily.com.au/story/2011/11/29/surfers-close-call-caught-on-video/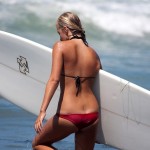 Become A Sponsor!
If you have a product or service that is a good fit for our surf community, we have opportunities for you to sponsor this blog!
Download our media kit now!