Better to ride one then be a snack for one lol…
VIA – KATU

Shark takes Ore. surfer for a ride
By Joe English, KATU News Published: Oct 11, 2011 at 7:06 PM PDT
SEASIDE, Ore. – Forget about jumping the shark. A surfer said he surfed a shark on the Ore. coast Monday.
Doug Niblack said it happened at "the cove", a popular surfing spot in Seaside. He was surfing Monday afternoon, when he said a ten to 12-foot shark hit his board and knocked him off.
Niblack said he ended up standing on top of the shark, which he believes was a Great White. He said it lifted him out of the water above his knees for several seconds, then it took off.
"It pulled my leg about three feet, hooked on my leash, then it was gone," said Niblack. "And that was the scariest part, when I didn't know where it was anymore."
He was not hurt.
While no one captured video of the encounter, nearby surfers who saw the encounter said Niblack is not making this up.
"You just have that fight or flight thing going on," said surfer Jake Marks. "The shark was …
For the full story go here:
http://www.katu.com/news/local/131565073.html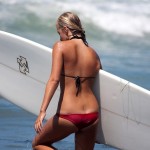 Become A Sponsor!
If you have a product or service that is a good fit for our surf community, we have opportunities for you to sponsor this blog!
Download our media kit now!