Bad ass…I want one.
VIA BTL NEWS

48-Camera GoPro Array Captures Surfers in Frozen Time
October 11, 2011 | By Staff
GoPro released a new video for international surf brand Rip Curl, which uses its first mobile, waterproof 48-camera array to capture never-before-seen perspectives of two-time world champion surfer, Mick Fanning, doing what he does best in the warm waters of the South Pacific. The video highlights the capabilities of the GoPro Camera Array that was used for Rip Curl's upcoming marketing campaign for its Mirage Boardshort and was shot in conjunction with the pioneers of camera array photography, Tim and Callum Macmillan, founders of Time-Slice Films and originators of the "Frozen Time" effect.
After GoPro's release of its 3D system in April, the company teamed up with "The Brothers Slice" and began experimenting and pushing the limits of its 3D HERO syncing technology. Tim and Callum were challenged with creating a handheld underwater camera array system for the launch of Rip Curl's upcoming Mirage boardshort campaign.
"We are always looking to lead the way when it comes to camera array effects and identifying new ways to push the limits for creativity and to acquire unique shots," said Tim Macmillan. "We've been waiting for the ideal camera technology to come along to do the video array. It's like waiting for a wave. You see the wave coming, you start paddling before everyone else and then it hits you and it is GoPro."
The result was an innovative development – the GoPro Array. The world's first video camera array, which could be submerged underwater, operated by one man and withstand the enormous waves at Cloudbreak, Fiji.
"The results and footage compiled from this campaign shoot is unlike anything anyone in surfing has ever seen before," declared James Taylor, Rip Curl's global creative director. "We had the best surfers in the world surfing one of the best waves in the world in the ultimate performance boardshort and all captured by the most versatile water cameras in the business. It was an unbelievable experience!"
"No other camera could have enabled this shoot," said Tim Macmillan. "What makes the GoPro Array revolutionary is shooting actual video, not still pictures arranged sequentially. Multiple cameras shooting 720p at 60 frames per second all synched together opens up a multitude of possibilities."
Additional videos for the Rip Curl campaign featuring this new GoPro Array technology will showcase Rip Curl surfers Owen Wright, Matt Wilkinson, Dillon Perillo and Dean Brady.
"At GoPro we're always looking for new ways to use our cameras, new ways to leverage them to do something that's never been done before in digital imaging," said Nicholas Woodman founder and CEO of GoPro. "As an example, GoPro is the first consumer camera company to enable people to combine multiple like-cameras together to form a new type of camera. We first did it with our 3D HERO System which allows you to combine two GoPro cameras together to form a 3D camera, and now we're experimenting with combining 48 cameras into a unique multi-camera array that enables entirely new forms of content capture. The results are stunning and it's another great example of how the HD HERO truly is the world's most versatile HD camera."
Since the inception of GoPro's 35mm film HERO Camera, a wrist camera for surfing, GoPro's professional quality micro HD cameras have become a popular camera for shooting extreme sports because of their small form factor, and a myriad of mounting accessories that make it easy to mount the cameras to anyone or anything imaginable.
For the full story go here:
http://www.btlnews.com/crafts/visual-fx/48-camera-gopro-array-captures-surfers-in-frozen-time/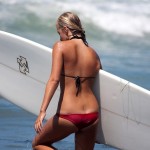 Become A Sponsor!
If you have a product or service that is a good fit for our surf community, we have opportunities for you to sponsor this blog!
Download our media kit now!