VIA – THE AUSTRALIAN
Shark which killed WA surfer won't be destroyed, even if found
AAP
September 05, 2011 2:26PM

Photo: The popular West Australian surfing spot, Bunker Bay, where a young bodyboarder was killed by a shark. Picture: Leonie Paine Source: The Sunday Times
A SEARCH is under way for a large shark that killed a man off Western Australia's southwest coast, but authorities have no plans to destroy the animal if they find it.
The 21-year-old victim, who has yet to be named, was attacked while bodyboarding at around 1pm local time yesterday at Bunker Bay, about 300km south of Perth.
Local beaches remained closed today as WA Department of Fisheries officers conducted an aerial search of the coast and Department of Transport boats searched nearby bays for the shark.
Police said the man died at the scene after the shark bit a large part of his lower body.
It's understood the man was originally from the eastern states and had been in WA for the past three to four years.
His mother was flying in from Queensland today.
The type of shark involved has not been determined, with varied reports saying it could have been a 4.5m white pointer, a bronze whaler or a tiger shark.
Police said there were no plans to kill the shark, but any sharks found in the area would be herded out to sea.
Fisheries Department shark research scientist Rory McAuley said the shark hazard policy for all government departments stated that a shark could be killed only if it posed an immediate threat to people.
Given that local beaches had been closed, there wouldn't be people in the water facing danger, and 24 hours after the attack the shark could be anywhere, he said.
"There's no policy to hunt down a shark that may have killed someone and how we'd go about identifying a shark if we happened upon it today, I don't know because there could be any number of sharks in the area.
"As a scientist who's been out catching sharks for 15 years, I'd say that catching a shark, even if that policy is enacted, can be a trickier exercise than a lot of people would like to believe."
Mr McAuley said a shark was not always inclined to take a baited hook and taking pot shots at it from a boat would probably injure it rather than kill it and potentially "make a bad situation even worse".


He said the offending shark could have been one of a number of species including the white shark, also known as the white pointer or great white.
"Most of the fatalities we've had in Western Australia have been attributed to white sharks although we have had some fatalities as well attributed to tiger sharks."
Mr McAuley said that given the location, the time of year and the coolness of the water, yesterday's killer was more likely to be a white shark and, going by reports, a fairly large one.
The attack happened about an hour's drive from Gracetown, where 31-year-old Nicholas Edwards was killed by a shark on August 17 last year.
For the full story go here:
http://www.theaustralian.com.au/news/nation/young-bodyboarder-killed-by-shark-in-conditions-perfect-for-an-attack/story-e6frg6nf-1226129782861
VIA – 9 NEWS
VIDEO: Nine News – Fatal shark attack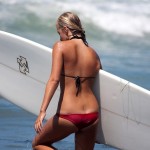 Become A Sponsor!
If you have a product or service that is a good fit for our surf community, we have opportunities for you to sponsor this blog!
Download our media kit now!