VIA – SYDNEY MORNING HERALD
$1 million on the line for Slater and co in New York


Photo – "How's the surf going to be ?" … 10-time world champion Kelly Slater will be one of the surfers competing in New York. Photo: ASP Media
September 5, 2011 – 3:06PM
Mick Fanning believes Kelly Slater is the equal of any athlete on the planet.
Australia's ex-world champion Fanning and 10-times world champion Slater are gearing up for the first million-dollar purse in professional surfing at the Quiksilver Pro New York.
Long Island is hosting the sixth of 11 legs in the 2011 world title race now led by Slater after his win at Teahupoo in Tahiti last month.
Roger Federer and Tiger Woods dominated discussions about the world's greatest athlete when both were at the peak of their considerable powers but, now that Federer has dipped to No.3 in the world and Woods has lost the plot, Fanning thinks Slater is worthy of equal billing.
''All I know is that if Kelly was in a more mainstream sport, a sport more people get to watch, he'd be as much of a god as anyone,'' Fanning said of the 39-year-old, ten-times world champion.
''It's pretty hard to top what he's done. And it doesn't look like he's going to stop any time soon.
''He's nearly 40 but he could go for another five years for all we know.
''He's competed against about four different generations of surfers.''
Slater's appearance at Long Island helped put the event on the cover of the sports section in Saturday's New York Times, the first time surfing had received such a prime location in print.
The Times' main yarns were the NFL season preview, Serena Williams' surge at the US Open – and Slater.
It still baffles plenty of people within the surfing industry that he's never featured on the cover of Sports Illustrated.
The risk in bringing professional surfing to Long Beach is that swells can be as flat as a tack, but the forecast is terrific.
A hurricane has plonked itself off the coast and the whole contest is likely to be run and won by the end of the week.
http://www.smh.com.au/sport/1-million-on-the-line-for-slater-and-co-in-new-york-20110905-1jtnh.html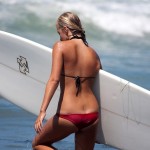 Become A Sponsor!
If you have a product or service that is a good fit for our surf community, we have opportunities for you to sponsor this blog!
Download our media kit now!