VIA – THE AUSTRALIAN
Shooting down the barrel, with a lens
Fred Pawle
From: The Australian
September 20, 2011 12:00AM


Chris Ross attacks The Right, an out-of-the-way shelf in the southwest of Western Australia. Peers say photographer Russell Ord's technique has changed the game. Picture: Russell Ord Source: Supplied
WHEN surf photographer Russell Ord arrived at The Right, a remote rock shelf off the southwest of Western Australia that creates dangerous but rideable waves in big swells, his plan to be the first to shoot it from the water looked sketchy enough.
A 4m bomb set came through and Ord decided he couldn't do it without the helmet and mini air tank – enough for eight breaths underwater – he'd brought just in case.
But that wasn't the worst of it. Just as he was about to dive in from his jetski, he saw the splash of what looked like a shark 10m away. As with all surfers in the southwest, the fatal attack on bodyboarder Kyle Burden at Bunker Bay less than two weeks before was still fresh in his mind.
"I felt shocking," Ord said. "I just took a couple of deep breaths and went in. I'd been thinking about doing this for a long time, so I didn't want to stop."
Much has been made of the crazy competitiveness of big-wave surfers, but those shooting them are often equally mad. Ord dived into The Right because he was bored with shots of big-wave surfers from the safety of a boat or ski in the channel. "They're not part of the moment," he said.
For the full article go here:
http://www.theaustralian.com.au/news/nation/shooting-down-the-barrel-with-a-lens/story-e6frg6nf-1226141218200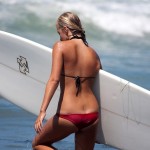 Become A Sponsor!
If you have a product or service that is a good fit for our surf community, we have opportunities for you to sponsor this blog!
Download our media kit now!