Seriously, what are these kids drinking? 14 years old and their doing 900's not just once, but twice? Although he didn't medal (this time) he's skating beyond his years. The fact that these kids are doing such impossible tricks at their age makes you wonder just what kind of tricks they will be doing when they "peak." Incredible…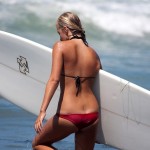 Become A Sponsor!
If you have a product or service that is a good fit for our surf community, we have opportunities for you to sponsor this blog!
Download our media kit now!