I love these kind of posts, just throw it out there and see what happens lol…
VIA – THE FIJI TIMES
Slater wins surf title
Aap
Thursday, October 20, 2011
PENICHE, Portugal – Kelly Slater has all but sealed an 11th world surfing title despite being defeated in the final of the Rip Curl Pro by Brazil's Adriano de Souza at Supertubos on Tuesday.
De Souza edged the American in clean 1.5 metre barrels to claim just the third elite tour win of his career.
But it will only take a finish of ninth – two heat wins – or better at the next tour stop in San Francisco for Slater to claim yet another overall crown.
Tuesday was all about De Souza though, tearing through the field on the final day of competition to take down South Africa's Travis Logie, Tahiti's Michel Bourez and then Australian Bede Durbidge in the semi-final before taking out his idol.
The young Brazilian opened up in the final with a solid forehand barrel for a 9 out 10 ride and while Slater answered back with two strong scores of his own De Souza came back in the final minutes to register enough points for the win.
"Kelly (Slater) has been my hero since I ever heard about surfing," De Souza said.
"He is a living legend and to be competing against him at this level is more than a dream come true.
"He has pushed me more than any other surfer and I owe him a lot."
While de Souza is still technically in contention for the overall title – moving from sixth to third in the ASP tour rankings – Slater looks almost unstoppable.
For the original post go here:
http://www.fijitimes.com/story.aspx?id=183751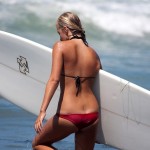 Become A Sponsor!
If you have a product or service that is a good fit for our surf community, we have opportunities for you to sponsor this blog!
Download our media kit now!