VIA – MANLY DAILY
Photo: David Vlug faces permanent partial blindness in one eye after an incident at the Shore Club. Picture: Braden Fastier.
Surfer blinded in club
19 Oct 11 @ 05:32pm by Lauren Dickson
CHAMPION young surfer David Vlug faces permanent partial blindness in one eye after an incident at the Shore Club in Manly on Friday, October 7.
The optic nerve in Vlug's left eye is irreparably damaged, leaving his career, which has seen him compete at world championships and ride for leading surf brand Volcom from the age of 12, in ruins.
The 21-year-old from Narrabeen alleges he was in a cubicle with two mates at 11.45pm when a Shore Club bouncer kicked the door open into his face.
"There were a couple of guys in there before us and it was obvious they had been using cocaine," Vlug said. "We were laughing and joking about it and we stepped in (to the cubicle) to look at the empty bag.
"We had to shut the door to look at it because it was on the toilet roll and we were all standing around when the bouncer banged on the door and screamed for us to open it."
Vlug said the bouncers asked to search him and the two other men.
"They didn't find anything because we didn't have any cocaine on us to start with," he said.
"When they realised we didn't have any drugs they freaked out. All the blood was coming out of my face and they bundled me into the lift, out the back door and booted me on to the street – I was so scared I couldn't believe they didn't even call an ambulance."
Vlug then called his parents who took him to hospital where he stayed for the next four days.
When contacted today the Shore Club declined to comment.
Manly police are now investigating what happened on the night.
"At the moment we are unsure if it was an accident or an assault," crime manager Insp Luke Arthurs said.
For the full article go here:
http://manly-daily.whereilive.com.au/news/story/blind-panic-for-champ-surfer/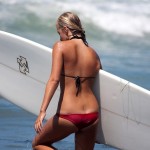 Become A Sponsor!
If you have a product or service that is a good fit for our surf community, we have opportunities for you to sponsor this blog!
Download our media kit now!