VIA – TIMES TRANSCRIPT

'Soul Surfer' a truly inspiring story
Published Saturday December 3rd, 2011
BY JANA GILES
TIMES & TRANSCRIPT
So, I finally watched the film Soul Surfer during our school's Mystery Movie in support of Christmas Daddies.
Comparing the book and the movie, for once I can't just simply say that the book was better, as I usually critique. I enjoyed the movie because it was so extremely inspiring, but the book was a more personal document of Bethany Hamilton's story, considering she wrote it herself.
Bethany Hamilton's passion is surfing. She and her best friend Alana "spent more time wet than dry" and surfed together frequently. One morning, Bethany went surfing with Alana and Alana's father and brother.
Since there weren't any good waves, they were just floating around on their surfboards. Bethany was dangling her left arm in the water lazily when a flash of grey (a shark) comes up to the surface of the water and bites off her arm and takes away a chunk of her surfboard.
According to the book and to the movie, Bethany didn't scream or yell like you would expect someone to do if they had been seriously injured. She just started paddling to the shore and was shortly after aided by Alana's father to make it the quarter-mile to safety. At the shore, people were trying to help while waiting for the ambulance that Alana's brother had called. Finally, they couldn't wait any longer for the ambulance and headed for the hospital themselves, eventually meeting up with the ambulance on the way. Bethany's mother was called and she drove to the hospital as soon as she got the call.
At the hospital, Bethany's father was about to have knee surgery when a nurse burst in and gave the surgeon a heads up that the room was going to be needed for a 13-year-old girl who had been attacked by a shark. Bethany's father knew that it had to be Alana or Bethany. He was rolled out of the surgery room and the surgeon told him that it had been Bethany and he was then obviously extremely worried, especially since he really didn't have any other information.
After the surgery, there were several days of recovery and Bethany first considered being a surf photographer since she thought that she wouldn't be able to surf again. But, before she even left the hospital she had changed her mind and wanted to be a surfer again.
At home, Bethany slowly started to learn how to do things differently and start surfing again. Of course, everything was hard at first, but it became less overwhelming with time.
Now, Bethany is famous for what she went through and her comeback. She is now a professional surfer, who is ranked among the top women in the world! She has been awarded the Teen Choice Award for Courage and the Best Comeback Athlete award, which is no surprise at all! More recently…
For the complete story go here:
http://timestranscript.canadaeast.com/whatever/article/1460600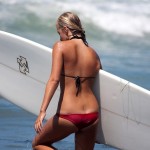 Become A Sponsor!
If you have a product or service that is a good fit for our surf community, we have opportunities for you to sponsor this blog!
Download our media kit now!