VIA MANLY DAILY
Soul surfer Bethany Hamilton tells story during Australian Open of Surfing
17 Feb 12 @ 05:12pm by Rod Bennett
Bethany Hamilton. PICTURE: ANNIKA ENDERBORG
WHEN Bethany Hamilton was young she dreamed of being a professional surfer and touring the world.
While she did not make it through the first round of this week's Australian Open of Surfing, she has beaten adversity and shown determination to be a promising surfer on the women's world tour.
Hamilton's dreams were rocked back in 2003 when she was just 13 and was attacked by a tiger shark while surfing near her home, on the island of Kauai, in Hawaii.
Her left arm was severed in the attack but, three weeks later, she was back on her board. Tomorrow night, she will be speaking at St Matthew's Church in Manly at 5.15pm, to be followed by a screening of the film, Soul Surfer, which tells her compelling story.
As well as being an ambassador for World Vision, the 22-year-old has become a poster girl for courage.
"I suppose that with my life, and with everything I've been through, it might make people think about their own lives and what they're going through," she said.
She has always been forthright about her faith in God and said she was praying immediately after the attack.
"One of the paramedics whispered in my ear, 'God will never leave you nor forsake you'," she said…
For the full story go here:
http://manly-daily.whereilive.com.au/news/story/soul-surfer/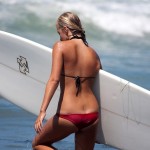 Become A Sponsor!
If you have a product or service that is a good fit for our surf community, we have opportunities for you to sponsor this blog!
Download our media kit now!