VIA – HUFF POST
Brett Archibald, South African Surfer, Found Floating In The Ocean After 27 Hours Missing
Posted: 04/18/2013 4:42 pm EDT

A missing South African surfer was found alive in the Indian Ocean, where he had been floating for 27 hours after falling overboard.
A rescue team found Brett Archibald floating on his back 12 miles off the Mentawai Island of Sipora on Wednesday, according to surf-centric Stab magazine. He was part of a group traveling from Padang, Indonesia, to the Mentawai Islands on a surf trip. It is believed he fell overboard after getting seasick in the middle of the night.
The Independent reports that others on the boat only discovered Archibald was missing when he failed to show to up for breakfast. Once the crew realized something was wrong, they immediately turned around. They called for help, and other carter boats along with Indonesian authorities joined in the search.
Finally, the Cape Town surfer was found by the crew of a Sydney-owned ship.
"He said he came close to drowning at least eight times during his 27 hour ordeal [swimming and drifting at sea] and that he had been stung by jelly fish, picked at by fish and seagulls had tried to pluck his eyes out," Craig Lambinon, who works in Sea Rescue Communications for the National Sea Rescue Institute told Stab. "He has highly complimented his rescuers on Barrenjoey. He is in good spirits."
Archibald, who is a married father of two, managed to give an interview to Surfing Life about his harrowing incident. He explained he must have passed out at some point while getting sick and woke up in the stormy waters around 3:15 a.m. with the boat miles in front of him.
Although he was able to withstand a full day in the water, he doubts he could've lasted much longer.
"The human body is an amazing, amazing thing," Archibald said. "I don't think I could have gone much beyond today, by the time night came I might have been cactus. I had to get my rhythm, I was treading water for five minutes, then I'd swim again. I saw land five times, but I could never get closer, the current pulled me away every time."
For the original post go here:
http://www.huffingtonpost.com/2013/04/18/brett-archibald-surfer-found_n_3111606.html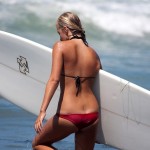 Become A Sponsor!
If you have a product or service that is a good fit for our surf community, we have opportunities for you to sponsor this blog!
Download our media kit now!