VIA – SANTA MARIA TIMES
When one Pismo Beach family turned to social media earlier this month in an effort to locate a missing surfboard, they never expected the outpouring of support they would receive.
Todd Everett's longboard turned up missing after a celebration of his life was held Easter weekend on the beach in front of the SeaVenture hotel and restaurant.
Everett, a county native and avid surfer, died in late February after a hard-fought battle with colon cancer. He left behind his wife of eight years, Jennifer, and their 6-year-old son, Oliver.
Per her husband's wishes, Jennifer held a memorial service and paddle-out on March 30, the day after Everett would have turned 45.
About 200 people turned out for the seaside service, where a group of Everett's friends paddled out into the surf in the man's memory.
When all was said and done, Everett's surfboard was left behind in the sand and hasn't been seen since. The board was supposed to be handed down to Oliver, who loves the ocean just like his father did.
"Oliver was just starting to stand up on that board this past summer," Jennifer said, adding that her late husband and his surfing buddies were planning to teach the young boy how to ride the waves this year.
Jennifer realized the surfboard was missing the day after the memorial service when she went into her garage to get the board and it wasn't there. She had planned to hang it on the family's living room wall as a reminder of her husband.
"It was a miscommunication," she said about the board getting left behind on the beach. "It was getting dark (when we left), and people just didn't see it."
Upon realizing the surfboard, which holds a tremendous sentimental value for her family, was gone, Jennifer called her sister, Julie Olson, who immediately utilized the power of social media to try to locate the missing board.
Olson created a Facebook post that includes a photo of Jennifer and Oliver on the beach at the memorial, a plea for the board's return and a crayon drawing of Everett's longboard, which has a single fin and is brown with yellow/gold trim.
"This surfboard is priceless to us and especially his son," Olson wrote in the post. "We know someone had to have picked it up but we can not locate it."
Since posting the photo and information about the missing surfboard, more than 22,000 people have shared the original Facebook post, some as far away as Arkansas and others as distant as England.
"Oh my gosh, no," Jennifer replied when asked if she expected such a huge response to her sister's post. "We just couldn't believe it. It was pretty awesome."
Olson has also started a Twitter feed about the missing board, and professional volleyball player Gabrielle Reece, who is married to big-wave surfer Laird Hamilton, has also tweeted about Everett's surfboard.
A Facebook page titled "Todd's Journey" has also been created to help spread the word about the missing board and garner its return.
"If it's out there, I think it will find its way back," Jennifer said, adding she originally thought the board was on the Central Coast. But she now believes it could be anywhere, depending on who picked it up.
Last weekend, Jennifer and friends handed out 200 fliers to all the businesses in the Pismo Beach area, as well as to surfers in Morro Bay, Pismo and Oceano.
She has also set up a reward fund at Mission Community Bank.
"I think we've done everything that we can (to get the board back)," Jennifer said. "We just have to let go and let it happen. I think it (will be returned). That would be such a happy ending."
At first Jennifer was angry that someone had taken the board and not returned it. However, she said reading all the messages on Facebook and emails she has received since the first post went viral has helped her deal with her emotions.
"I don't want to be mad or angry," she added.
With so many individuals supporting the return of the missing board, Jennifer feels like it has "taken on a life of its own" and that her husband would be pleased Oliver "is in good hands" with all the people who are looking out for him.
"It would be comforting to him," she said. "You don't realize how many people do care."
The missing longboard can be returned to the Pismo Beach Police Department or any lifeguard, no questions asked.
Anyone with information can email Jennifer at [email protected] or leave a message on the "Todd's Journey" Facebook page.
For Twitter updates, follow @Ecojlo #lostsurfboard.
For the Facebook post go here:
http://www.facebook.com/pages/Todds-Journey/131024496963432
For the original article  go here:
http://santamariatimes.com/news/local/pismo-family-using-social-media-in-search-for-missing-surfboard/article_9d9e1212-ab10-11e2-9041-0019bb2963f4.html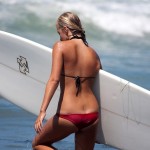 Become A Sponsor!
If you have a product or service that is a good fit for our surf community, we have opportunities for you to sponsor this blog!
Download our media kit now!