I love the California liberals with their "don't offend anyone by offending everyone, get nothing worthwhile done," mentality…
VIA – UT NEWS
STATE AG RULING ON THE SURFING MADONNA RIDES WAVE OF ILLOGIC
Written by
12:01 a.m., March 19, 2012
Updated 3:39 p.m. , March 18, 2012
Quick. Someone check brains in the state Attorney General's Office for waves.
The AG's opinion that the Surfing Madonna — the guerrilla mosaic of Our Lady of Guadalupe proposed for city-leased state land near Moonlight Beach — would violate the no-preference clause of the state Constitution is beyond bizarre.
The no-preference clause, California's variant of the Establishment Clause, broadly dictates that government cannot appear to support one religion to the exclusion of others.
In other words, it is OK to invoke religion in the public square; it is not OK to promote one religion.
Crosses on public property, it can be argued, express a community's preference for Christianity. We do not, however, burn money that affirms our national trust in God.
No one with a functioning frontal lobe can look at Leucadia artist Mark Patterson's ocean-loving bolt out of the blue — or listen to him discuss his creative inspiration — and infer that the mosaic promotes Catholicism. Only a deputy AG doing the polka on the head of a pin could draw that delirious conclusion.
This is Encinitas, for God's sake. The Madonna in bootees is riding waves where golden lotus blossoms are landmarks, Swami's is the iconic surf break, and a tiki, Polynesian symbol with religious significance, squats in a public park.
A few months ago, when it appeared the Madonna had run the full political/legal gantlet, I made North County readers a promise:
"If a judge ever finds that the Surfing Madonna violates the Establishment Clause — i.e., if the artwork demonstrates a civic preference for surfriding Catholicism — then I pledge to quit my job and, for the rest of my life, wear a yarmulke, pray to Allah, crawl on glass on Easter weekend, and raise organic vegetables at a Hindu ashram."
I stand by that pledge despite the AG's zombie logic.
Assemblyman Martin Garrick, a longtime surfer, strongly supports the Madonna at Moonlight, but it's unclear if he'll be able to knock Kamala Harris & Co. off its wild and crazy hare…
For the full article go here:
http://www.utsandiego.com/news/2012/mar/19/tp-state-ag-ruling-on-the-surfing-madonna-rides/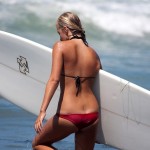 Become A Sponsor!
If you have a product or service that is a good fit for our surf community, we have opportunities for you to sponsor this blog!
Download our media kit now!