Thanks for the heads up from our bros down at Sacred Craft for sending this one along (follow them on twitter at @SacredCraftExpo) …after seeing Paige fight in December we look forward to seeing throw down as a possible pro sometime in the near future.  To see our archived articles and video on Paige's earlier fight go here:
http://surftweeters.com/video-surfer-girl-paige-hareb-and-hayley-holt-fight-for-life-paigehareb/
and here:
http://surftweeters.com/the-battle-of-the-blondes-pro-surfer-girl-paige-hareb-fights-snowboarder-hayley-holt-paigehareb/
VIA –  STUFF CO NZ
Top surfer may make ringside splash
Fight for Life cult hero Paige Hareb is considering following Sonny Bill Williams' example and juggling a professional boxing career with her world-class surfing campaign.
The charity boxing event's promoter, Dean Lonergan, has offered Hareb a spot on the undercard of the upcoming Shane Cameron v Monte Barrett fight.
"Paige was just amazing in last year's Fight for Life," Lonergan told Sunday News. "She's the pluckiest, bravest star we've had in any of the fights.
"Boxing's about entertainment, when people reach deep down and show courage and character. And Paige definitely has that because she was awesome, a little hurricane with a huge heart.
"I'd love to have Paige on the Cameron and Barrett undercard (scheduled for May), and back again for this year's Fight for Life. I know that's two fights in not much more than six months but I reckon Paige's tough enough to handle that.
"She's one of the greatest all-round female athletes New Zealand's ever produced, maybe one of the greatest, full stop. She's not only one of the world's best surfers, she was in the North Island junior soccer academy and New Zealand junior ski academy [with X Games medallist Jossi Wells]."
Lonergan has spoken to Hareb's manager, Phil Gaze, about the pro boxing offer. He and fellow Duco Events director David Higgins will have further discussions with Gaze over the next fortnight.
Lonergan said money from a sideline in professional boxing would allow Hareb to help finance her travel in her quest to become the world's No 1 surfer.
"We don't expect Paige to do this for free."
Hareb, 21, lost her main sponsor Billabong in December after eight years of support by the surfwear giant. Auckland company Debitsuccess and a private investor had stepped in to help fund her contesting her fourth Dream Tour but she still needs further financial support.
Hareb yesterday told Sunday News: "I'm seriously considering Dean's offer.
"Surfing will always be my number one priority but the reality is I need to bring more money in to support my campaign because of the amount of travel around the world.
"I hadn't actually thought about doing more fights until Dean suggested it. But if I could work in a couple of pro fights a year around my surfing commitments, in the same way Sonny Bill [Williams] does with rugby, it could work for me.
"We've had several events on this year's [surf] tour either cancelled or postponed, so the circuit is shorter than past seasons so I could potentially do this….
For the full article go here:
http://www.stuff.co.nz/sunday-news/latest-edition/6595203/Top-surfer-may-make-ringside-splash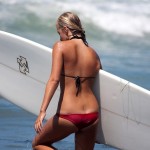 Become A Sponsor!
If you have a product or service that is a good fit for our surf community, we have opportunities for you to sponsor this blog!
Download our media kit now!