VIA – ESPN
Sun sets on Moore's Triple Crown hopes
Sunny Garcia spoils Carissa Moore's Triple Crown run
Updated: November 29, 2011, 9:33 AM ET
By Daniel Ikaika Ito
ESPN.com


Joli – And like that, Moore's historic Triple Crown run comes to an end.
If you don't count longboarders and pro juniors, only three native Hawaiians have won ASP World Titles: Derek Ho (1993), Sunny Garcia (2000) and Carissa Moore (2011). Despite inventing the sport, he'enalu (wave sliding), for many native Hawaiians, that fact leaves a sour taste in their mouths like two-day old poi.
When Carissa Moore and Sunny Garica squared off — along with Australia's Mitch Coleborn and Tahiti's Alain Riou — in heat 14 of the round of 96 at the Vans World Cup it was a point of pride for resident population. A fading north swell offered five to seven-foot surf at Sunset Beach, but good waves were hard to find all day.
Garcia, a six-time Vans Triple Crown champion, eventually won the wave-starved 30-minute heat, using lineup knowledge and rail-to-rail surfing to earn a two-wave total of 13.93 out of a possible 20 points. The judges threw Garcia a 5.93 out a possible 10 points for a one-maneuver ride, where Sunny displayed classic Hawaiian power with a layback snap under the hook. He solidified first place late in the heat with an eight-point ride that he managed to catch under Coleborn.
oliNothing but aloha in the channel during the Moore/Garcia heat.
"The whole time I was like, 'please, God just send me a wave' because I just wanted to surf," said Garcia of his heat where only 16 waves were ridden. "Fortunately, I stole that wave off Mitch Coleborn, he was right there and we kind of hustled for it and fortunately I got it."
Although Garcia got the best of Coleborn on that wave, the Aussie still advanced out of the heat in second place. Thus, leaving Carissa Moore in third and Alain Riou in fourth place.
After the heat, Garcia admitted that he was honored to surf against Moore.
"I was thinking that if I lost to Carissa I would have been happy for her because she's such a great person, such a great surfer and it was an honor to surf against her in a heat," said Garcia. "For the Triple Crown to give her a wildcard into the events was incredible; unfortunately for her she didn't get any waves."
Just like Haleiwa, the ocean seemed to go flat for Carissa Moore's heat, but true to form, the 2011 ASP Women's World Champion handled the loss gracefully….
For the full article go here:
http://espn.go.com/action/surfing/story/_/id/7292708/carissa-moore-day-two-vans-world-cup-surfing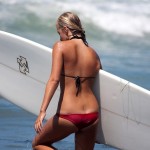 Become A Sponsor!
If you have a product or service that is a good fit for our surf community, we have opportunities for you to sponsor this blog!
Download our media kit now!