VIA – BREVARD TIMES
Cocoa Beach Surf and Fishing Report For Tuesday November 29, 2011
Tuesday, November 29, 2011
Always check the Front Page of Brevard Times.com each morning for the latest Surf and Fishing Report, or follow us on Facebook or Twitter to receive automatic updates.
As of 9:00 a.m. on Tuesday November 29, 2011, jelly fish were not present throughout Cocoa Beach from Coconuts on the Beach northward to Jetty Park in Cape Canaveral, and have not been present for the last two months despite prevailing winds from the east and northeast.
Sargasso seaweed is still present in the water and on shore. There are two distinct waves of seaweed – an older wave from last week that is starting to blacken and breakup on the shore, and a smaller newer wave of seaweed that is in the water.
Waves are 4 to 6 feet due to a change in wind direction from the west. There is a near-shore ocean current heading northward.
A Hazardous Weather Outlook has been issued for Brevard County and surround waterways by the National Weather Service…
For the full surf and weather report go here:
http://news.brevardtimes.com/2011/11/cocoa-beach-surf-and-fishing-report-for_29.html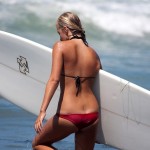 Become A Sponsor!
If you have a product or service that is a good fit for our surf community, we have opportunities for you to sponsor this blog!
Download our media kit now!