VIA – SANTA MONICA PATCH


Surf Alert: South Swell Is Biggest in 2 Years
Legendary surf forecaster Sean Colllins explains why.
By Serge Dedina
3:08pm
Waves from a storm that originated off Antarctica have pounded Southern California beaches, including Santa Monica Beach, since Wednesday. They've resulted in at least one drowning in Orange County and broken surfboards up and down the coast and epic rides for the region's best surfers.
Breakers up to 8 feet are expected in Santa Monica on Friday and Saturday, although they're expected to diminish later Sunday.
Beaches that have seen larger-than-usual surf with sets up between 8-10 feet included Imperial Beach, Coronado, La Jolla, Solana Beach, Oceanside, Trestles, Huntington Beach and Newport Beach, among others.
"Yesterday, one reef in La Jolla was breaking with eight wave sets and was at least triple overhead," said marine biologist and surfer David Kacev.
According to Surfline, the size of the sets breaking at Newport Beach's infamous Wedge, were between 15-20 feet yesterday.
Lifeguards from Imperial Beach to Zuma in Malibu are patrolling beaches to make sure inexperienced surfers and swimmers stay out of the water and out of harm's way.
The drowning victim, Jowayne Binford of Long Beach, was an inexperienced ocean swimmer, according to his mother, Gail Binford, in an interview with KABC-7.
On Tuesday, Sean Collins, chief forecaster and president of Surfline, alerted Southern California authorities to the dangers posed by the swell. In a press release he stated: "Extra caution is urged to keep the public aware and safe from these large waves and associated rip currents."
Collins was the first person to accurately forecast swells on a regular basis in the '70s and early '80s. He pioneered and created the first ongoing surf forecast available to the surfing public via Surfline and 976-SURF in 1985.
From his coastal headquarters in Huntington Beach, according to Collins, he and his team provide surf-related weather and forecasting services to lifeguard agencies in California, the U.S. Coast Guard, Navy SEALs, the National Weather Service and surf companies.
Surfer Magazine named Collins one of the "25 Most Influential Surfers of the Century." In 2008, he was inducted to the Surfer's Hall of Fame in Huntington Beach. He is the author of California Surf Guide: The Secrets to Finding the Best Waves.
Collins acted as chief forecaster for last week's Billabong Pro surf contest in Tahiti, in which the same swell that is now pounding Southern California resulted in 40-foot waves and closed harbors throughout the island chain.
When I caught up with Collins, he was on his way to New York City to act as chief forecaster for the $1 million Quiksilver Pro New York surf contest that will be held in Long Beach, NY, from Sept. 4-15.
Imperial Beach Patch: When was the last time we had a southern hemisphere swell this big hit California?
Sean Collins: Actually this is the biggest out of the southwest for quite a while. I think that the last one like this was April 2004. The swell in July 2009 that hit the U.S. Open of Surfing in Huntington Beach was actually a little bigger, but not as long a period. Depending on the swell period some areas will focus the swell energy better, like on Wednesday. The 20- to 22-foot periods were really focusing into some areas but completely missing others. Once the period dropped on Thursday, most other areas began to see the swell.
Imperial Beach Patch: It seems like the swell hit earlier than forecast and the estimate of its duration is now longer than originally forecast?
Collins: Only because the spots that focus the longer periods picked up earlier. If we forecasted for that, most spots and surfers would have said we were wrong. We did say that the swell would be filling in Wednesday afternoon. Longer periods travel faster than shorter periods so that is why the long period spots flared up first. Longer swell periods also help the swell to wrap into San Diego County where spots need more southwest in the direction, or longer periods to feel the ocean floor to wrap in.
Imperial Beach Patch: Is it hard to predict the surf that is generated from southern hemisphere storms?
Collins: It's the most difficult because there is so little data in the middle of the ocean to validate the models, and the models are off all the time. A difference of 5 knots of wind speed between 40 knots to 45 knots in a storm off New Zealand will result in a 24-hour difference in arrival time here in California and a difference of 4-feet in surf face height.
Imperial Beach Patch: These large storms off Antarctica that produce massive swells are pretty unique. Generally, how often do we receive southern hemisphere swells?
Collins: On the long-term average we receive about 50 swells a year from storms in the southern hemisphere. Most of those swells create surf of 3 feet on the wave face, 40 percent of those swells are over 5 feet, 10 percent are over 8 feet. This swell is obviously in the top 10 percent and we usually receive about five major overhead southern hemisphere swells a year.
But this swell is definitely at the top of the best swells and will probably be the largest southern hemisphere swell we've received in the past few years since the July 2009 swell. Again, most of San Diego County is not exposed to all of the southerly directions like other areas in Southern California, so you may not see as many there.
Imperial Beach Patch: When large sets hit one location, are they hitting different areas around the same time?
For the full Santa Monica Surf Report, Photos and Article go here:
http://santamonica.patch.com/articles/surf-alert-south-swell-is-biggest-in-2-years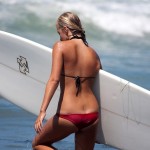 Become A Sponsor!
If you have a product or service that is a good fit for our surf community, we have opportunities for you to sponsor this blog!
Download our media kit now!