VIA- KSWB


Gnarly Santa Cruz Waves Hitting Friday Peak
By Amy Larson, KSBW.com
POSTED: 11:42 am PDT September 2, 2011
UPDATED: 1:52 pm PDT September 2, 2011
SANTA CRUZ, Calif. — Santa Cruz's surfers ripped across double overhead waves from Steamer Lane to La Selva Beach as a major south swell hit its peak on Friday.
Pleasure Point surfer Danny Keith spent Friday morning recovering after breaking his board during a Wednesday night wipe-out, surfing two hours the next morning, and then surfing four more hours Thursday evening until it was so dark he could no longer see.
"It was a solid six foot set at The Hook, it was going off, incredible," Keith said. "Today is the peak of the swell, there is a solid 8-foot set coming through the point right now. I'm going back out."
The swell is forecasted to generate 8- to 10- foot waves on Friday, die down in the evening, and resurge Saturday afternoon at 8 feet, according to Surfline.com.
Top local wave shredders finally ventured away from West Cliff Drive and spread out across Santa Cruz County, diving into breaks that are normally too weak to inspire them to pull on their wetsuits.
Expert wave shredders including Anthony Tashnick, Nic Lamb, Jason "Ratboy" Collins and Nat Young were all seen out in the big surf.
Mediocre surfers should stay away from the biggest breaks, because there are a lot of surfers battling each other for Friday's walls of water, Keith said.
Shaky surfers attempting breaks above their skill level end up ditching their boards into someone else's path. "If a guy has a seven foot board with a seven foot leash, that's a 14 foot guillotine," said Keith, who has broken his jaw on a less-skilled surfer's board.
The surfing nirvana got even gnarlier when a dense fog that had loomed over Santa Cruz almost every day in August lifted above some beaches on Friday. Temperatures rose to a high of 80 degrees and forecasters said the weather will stay warm Saturday at 78 degrees.
The south swell was generated by a storm off the coast of New Zealand, where it is winter.
When New Zealand's swell rippled across the Pacific and first hit Santa Cruz on Thursday morning, it was still so powerful that the Santa Cruz Harbor's boat launch had to close.
For the full article and more info on the Santa Cruz Surf Report go here:
http://www.ksbw.com/r/29063582/detail.html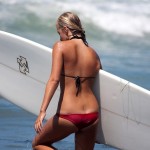 Become A Sponsor!
If you have a product or service that is a good fit for our surf community, we have opportunities for you to sponsor this blog!
Download our media kit now!