VIA – IMPERIAL BEACH PATCH
Surf Exhibit Opens in San Diego
An eclectic crew of surfing legends, shapers, and historians from Coronado and Southern California attended the weekend reception for the show, which continues through March.
Coronado surfing historian John Elwell with the Simmons surfboards from his collection. Credit Serge Dedina
Hydrodynamica: Remember the Future, a show featuring surfboards, photographs and film clips connected to the surfing legacy and influence of Bob Simmons, will be at the Loft 9 Gallery and Space 4 Art in the East Village, 325 15th Street, San Diego.
Simmons is credited with using techniques in the '40s and '50s that mirrored "California's post-war modern design movement" while influencing future designs of both surf- and skateboards.
The exhibition was…
For the full article go here:
http://imperialbeach.patch.com/articles/hydrodynamica-surf-exhibition-opening#photo-8994254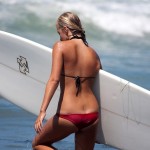 Become A Sponsor!
If you have a product or service that is a good fit for our surf community, we have opportunities for you to sponsor this blog!
Download our media kit now!