VIA – APPAREL NEWS
Surf Expo Attendance Up by Double Digits
by Deidre Crawford, Manufacturing Editor September 15, 2011
ORLANDO, FLA.—Surf Expo held its largest-ever trade show Sept. 8–10 at Orlando's Orange County Convention Center. Exhibitor numbers were up 14 percent, with 825 exhibitors representing more than 4,000 brands, according to show director Roy Turner.
"The show was a huge success, attendance was up in double digits and we had 250 more booths than last year's show," Turner said.
The show is now the biggest action-sports trade show in the country after the longstanding Action Sports Retailer Trade Expo shut down last year.
In addition to more exhibitors, the show featured a wakeboard pool, skate course, Professional Association of Dive Instructors (PADI) dive tank, standup-paddling demo pool, runway shows and the 2011 TransWorld Wake Awards.
Turner denied rumors that Surf Expo was expanding to the West Coast, but he said that under the new ownership of Providence Equity Partners, the group is "looking to explore growth both in the U.S. and international markets in the coming year."
Recently, a deal was made to transfer ownership of GLM Shows, including Surf Expo, from U.K.–based DMG World Media to Providence Equity Partners, which is finalizing at the end of September, according to Turner.
Sales were steady at the event, which is known primarily as a show to capture mid-Atlantic and Caribbean buyers. With the September show date falling late in the Spring buying cycle, it can be a challenge to close orders in time for manufacturing deadlines, exhibitors said.
"We have one week to get our orders in," Kristin Chodera, specialty-store sales manager for Roxy, said. Despite this, traffic was good, and the brand had been doing well with an updated version of its sleeveless "Savage" halter dress, which originally debuted last spring, Chodera said. The Quiksilver Pro competition in Long Island, N.Y., held Sept. 1–15, also helped boost sales, according to Chodera.
Steve Ellingson, vice president of sales for Quiksilver Women, said the show was a good regional show that provided a chance to service existing customers that the company hadn't already seen. The fleece and dress categories had been strong, as well as retro tees, stretch shorts and boardshorts sporting vintage Hoffman prints from the '70s.
Jeremy Lonsway, a national sales manager for Irvine, Calif.–based surf brand O'Neill, said despite the time crunch for closing orders, business was "super busy" for the brand, which saw success with its "Hyperfreak" boardshort and "Hybrid" boardshort-walkshort.
"Ninety percent of the day, we've been at borderline full capacity," Lonsway said.
The "Hyperfreak" technical boardshort, which retails for $99.50, features four-way stretch; taped, seamless edges; and a special antimicrobial lining to prevent odor. The "Hybrid," which "has the features of a boardshort on a walkshort silhouette," had been "blowing up," Lonsway said.
The company is known for inventing the wetsuit, surf leash and surfboard bag, and its upcoming 60th anniversary next year is also a big selling point for the brand, according to Lonsway. As part of its Spring line, the company is offering special apparel featuring graphics stenciled by founder Jack O'Neill commemorating the brand's heritage.
Sasha Hartloff, sales manager for O'Neill's women's line, said the brand's new "Superkini," which has 200 percent more grip than a standard bikini, had been doing great at the show, along with the company's new O'Neill 365 crossover fashion active line.
Greg Osthus, category director of Carlsbad, Calif.–based surf apparel and footwear company Reef, said despite the late date, the show provided buyers the opportunity to see everything the brand has to offer under one roof, as well as "a meeting of the tribe" for surf brands.
Osthus said he saw both existing accounts and landed some new orders, and he stressed the brand's heritage in its success. "To be successful in surf, you have to have roots and authenticity."
Reef's "Land to Sea" amphibious walkshort, which wholesales for $25, and super-soft Pima-cotton "creamy tees," which wholesale for $13, had been big sellers at the show, he said.
Debby Foley of East Coast resortwear company Gretchen Scott Designs, said traffic had been a little slow and that the line had not gained any new buyers yet but had existing accounts that were writing large orders.
Elan Savir, president and owner of contemporary-apparel company Elan International, said the show was not as busy as January's, but his immediate and Summer lines were selling well with Caribbean customers. Lace and linen were hot, as well as the company's monotone tie-dyed dresses and Southwestern prints, he said.
Designer and owner Luli Hamimian of Luli Fama said her Miami-based swimwear line had been busy with appointments all day and that she had picked up new accounts, but traffic for the overall show seemed a bit slower.
Her distinctive, brightly colored, skimpy bikinis are what help her brand stand apart and remain successful, she said.
For the complete article and photos, go here:
http://www.apparelnews.net/news/tradeshows/091511-Surf-Expo-Attendance-Up-by-Double-Digits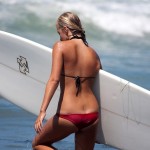 Become A Sponsor!
If you have a product or service that is a good fit for our surf community, we have opportunities for you to sponsor this blog!
Download our media kit now!