VIA – ESPN

Frank Quirarte – RIP Sean Collins, 1952-2011.
Surf-forecasting pioneer Collins dies
By Jake Howard
ESPN.com
Archive
The surf world is in mourning Monday evening as word of Surfline founder Sean Collins' passing is reverberating around the globe. Collins died Monday afternoon near his home in Seal Beach, Calif., according to the Orange County, Calif. coroner's office. The cause of death is uncorfirmed. Collins was 59.
The founder of Surfline.com and godfather of surf forecasting, Collins was one of the true innovators of the sport. He grew up in Seal Beach in the 1960s and got his start providing daily, phone-in surf reports for the Lifeguard Department in that town. Gaining notoriety for his spot-on reporting and insight, Collins' interest in forecasting blossomed. He was the first surfer to manipulate NOAA's weather and oceanic data to provide accurate surf forecasts and founded Surfline in March of 1985. Originally just a phone service, Surfline became one of the first surf websites in 1995, and eventually grew into the most-visited surfing website on the Internet. In 1999 Surfer magazine named him Collins of the 25 most influential surfers of the 20th Century.
"Various weather services and university libraries were places where I could look for papers about how to forecast swells, calculate swell decay, estimate swell speed and great circle routes, etc," Collins said in an interview with Damien Hobgood on ESPN in 2009. "There was so little swell forecasting information available anywhere …"
For the full article go here:
http://espn.go.com/action/surfing/story/_/id/7391373/surf-forecasting-pioneer-sean-collins-dies-59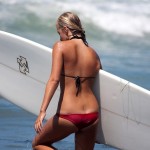 Become A Sponsor!
If you have a product or service that is a good fit for our surf community, we have opportunities for you to sponsor this blog!
Download our media kit now!