RIP Sean, thanks for being such a rad dude…
VIA – SIGNS ON SAN DIEGO

Sean Collins founded Surfline.com of Huntington Beach, a forecasting service that is widely used by surfers in San Diego County. — Orange County Register/Surfline
Surf legend Sean Collins dies
Written by
Gary Robbins
:07 p.m., Dec. 26, 2011
Updated 6:48 p.m.
The Orange County Register is reporting this evening that Sean Collins of Seal Beach, the mellow surfer who turned his love for the ocean into the world's first major wave forecasting service, helping to popularize breaks from Swami's in San Diego County to Bondi Beach in Australia, died on Monday at age 59.
Reporter Laylan Connelly, who spoke to the Orange County Coroner's office, says Collins appears to have died of a heart attack. She confirmed his death with Collins' son, A.J. (The Register will have a story by 7 p.m. We'll link to it.)
"This is terrible news. The community has lost a giant," said Charlie Fox, a former Southern California wave forecaster who trained under Collins.
Collins, who was well-known in the San Diego County surfing community, created Surfline, the first major, reputable private wave-forecasting service. The self-taught meteorologist founded the business in small offices in Huntington Beach in the 1970s and later created a major business housed in quarters overlooking the Huntington Beach Pier.
Collins became well known for his recorded forecasts, which were originally available by telephone. He later moved his company on to the web and created widely-used Surfline.com. The expansion included live "surf cams" that were placed on scores of beaches, including many in San Diego County. His forecasts were used by everyone from amateur surfers to professional competitors to movie producers.
Surfer magazine named Collins one of the 25 Most Influential Surfers of the 20th Century, and…
For the full story go here:
http://www.signonsandiego.com/news/2011/dec/26/surf-legend-sean-collins-dies/?sciquest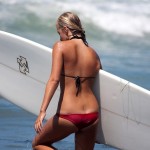 Become A Sponsor!
If you have a product or service that is a good fit for our surf community, we have opportunities for you to sponsor this blog!
Download our media kit now!