VIA – SLO.COM

Surf music: SLO County's radical history
The rise of surf rock in the 1960s was spearheaded in part by local teen bands including The Impacts, The Sentinals and The Revels
By Patrick S. Pemberton | [email protected]
In the summer of 1962, 16-year-old Tommy Nunes and his group The Sentinals toured the country in a station wagon, promoting Nunes' instrumental song "Latin'ia." Meanwhile, members of The Impacts, another teen band from San Luis Obispo County, were preparing to record an instrumental called "Wipe Out."
While both tunes would later be known as surf songs, at that point, the genre was still new.
"When we first started playing, the term 'instrumental surf music' hadn't been coined yet," said Merrell Fankhauser, of The Impacts, who remembers an old Tribune headline that called it "twist music for surfers." "We were right there at the very beginning of it."
Saturday's "Surfin' Safari" show at the Clark Center, featuring a Beach Boys tribute band, will recall surf music of the 1960s. But even before the Beach Boys popularized songs about wave riding, bands in San Luis Obispo County were helping to popularize surf music.
While The Sentinals and The Impacts were probably the best-known surf bands from the county, local surf music began with The Revels.
"Before I joined the Impacts, I had played with The Revels," said Fankhauser, of Arroyo Grande, "which were really the original first instrumental band from around here."
The Revels started out of San Luis Obispo High School in the mid-1950s. And while they are often considered a "pre-surf" band, decades later, they would gain surf music notoriety when their song "Commanche" appeared in Quentin Tarantino's movie "Pulp Fiction."
In 1958, as The Revels were winding down, Fankhauser was working at the Fair Oaks Theatre in Arroyo Grande.
"After one of the matinees, when we were done cleaning up, I sat down in one of the seats and had my acoustic guitar and started singing a Ricky Nelson song," Fankhauser remembered. "And the manager of the theatre heard me and said, 'Hey, you're pretty good. How would you like to sing a song in between the matinee?' "
Fankhauser went on to play other theatres in San Luis Obispo, Morro Bay, Atascadero and Santa Maria. And that summer, he briefly played with the Revels. But eventually, he joined the Impacts, a band he'd beaten in a talent show contest.
Drawn to the instrumental music of acts like Duane Eddy, Fankhauser began writing originals on his guitar.
"And because I was a surfer, I started putting surfing titles to them," Fankhauser said.
The Impacts played several venues, including The Peppermint Twist West, now the Splash Café, and The Rose Garden Ballroom, now Pancho's Surf shop — both in Pismo Beach.
With room for more than 1,000 patrons, The Rose Garden Ballroom had hosted popular big bands — and boxing matches — when it was built in the 1940s. And it became a hot venue for acts traveling between San Francisco and Los Angeles in the '60s.
"A lot of these bands were basically looking for a payday," said Mike Hischier, who has owned Pancho's for 20 years.
"I know that Jimi Hendrix had played there," he said. "Jefferson Airplane played there."
It would also host bands such as The Yardbirds, featuring guitarists Jeff Beck and future Led Zeppelin member Jimmy Page.
"It was a really bitchin' ballroom," Nunes said. "It had a nice stage. It was pretty well-known. People would come from the valley, and it would get pretty crowded."
Fankhauser remembers seeing The Ventures there.
"And The Beach Boys were booked there one time," Fankhauser said. "They came in, and we looked at them and thought, 'Who are these old guys calling themselves The Beach Boys?' Because they all looked old to us."
In addition to the ballroom, Nunes said, local surf bands would play battle of the bands contests at the veterans halls in Pismo Beach and Santa Maria and at a Chevy dealership in San Luis Obispo.
But his song "Latin'ia" would send The Sentinals across the country.
"We worked our way all the way to Buffalo, New York," said Nunes, of Cayucos.
After his parents bought him a guitar from Montgomery Ward, Nunes and some friends from San Luis Obispo High School formed their first band. Inspired by the Ventures' song "Walk, Don't Run," they began making instrumental music. They recorded some R&B and rock covers, but "Latin'ia" had a strong surf vibe.
"The intro was a lick that kind of set up the whole song," Nunes said.
Norman Knowles, from The Revels, offered to manage the band, which was signed to Del-Fi Records. And soon "Latin'ia" was getting major airplay in Bakersfield and Los Angeles.
"It became a California surf hit," Nunes said.
When the group toured, they would often open for acts like The Coasters and The Righteous Brothers, then perform as their backing bands. The Impacts, meanwhile, backed acts such as Little Anthony and the Imperials and Freddy Cannon.
Like The Sentinals, The Impacts were signed to Del-Fi Records. One of their early songs was based on a tune Fankhauser had originally called "Kickout."
"One day I was surfing on the right side of the (Pismo) pier, and I got wiped out and really mashed my head into the sand," Fankhauser said. "I was spitting sand and everything out of my nose, and a guy on the beach was laughing — 'Ha, ha, Merrell — you really got wiped out!' "
As he was driving home, Fankhauser decided to rename "Kickout."
Being teens, The Impacts didn't pay much attention to contracts, and not long after The Impacts released the newly-named "Wipe Out," The Surfaris released their own "Wipe Out," which became a huge hit.
Fankhauser wouldn't get the rights to his song until 1994.
While acts like Dick Dale helped make surf music a national phenomenon, by the mid-'60s, the Beatles had made surf music seem irrelevant.
"I became a huge Beatles fan," Nunes said. "We all did."
Nunes and Fankhauser continued to play music, but…
MORE NOW: http://www.sanluisobispo.com/2012/03/01/1968797/surf-music-sentinals-impacts.html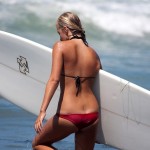 Become A Sponsor!
If you have a product or service that is a good fit for our surf community, we have opportunities for you to sponsor this blog!
Download our media kit now!