VIA – NEW CASTLE HERALD

Mark Ayre at Swansea yesterday.
Surf skiier escapes great white shark off Redhead
BY DONNA PAGE
06 Jun, 2012 04:00 AM
A NEWCASTLE ambulance officer was lucky to escape injury after being knocked from his ocean racing ski by a great white shark on Sunday.
Redhead Surf Lifesaving Club members Luke Nolan and Mark Ayre were paddling about one kilometre off Redhead, on their way to Newcastle Harbour about 2.30pm, when the two-metre juvenile great white struck.


CLOSE SHAVE: Shark teeth marks left in the back of Mark Ayre's ocean racing ski. Pictures: Max Mason-Hubers
Mr Ayre said he was paddling about 14km/h "chasing the swell", when he felt an "enormous force hit the ski" and he was knocked into the water.
"I had no idea what direction it came from, I just looked across and saw the shark within two feet of me," he said.
"It was very solid, it looked like a brute of a thing, and I literally jumped back on the ski like a perched cat on a couch."
The shark attacked the back of the 5.7-metre ski leaving puncture marks.
Mr Ayre said after hitting the ski, the shark disappeared from sight and the pair continued their journey into Newcastle Harbour.
"It was rough and the swell was pretty big, besides the harbour there was nowhere else for us to come in at," he said.
"I was lucky the ski only had a few puncture marks, by the time I got to Horseshoe Beach it had taken in about 10 or 12 litres of water."
The 30-year-old former Newcastle City Council lifeguard said he had seen numerous sharks in the past, but nothing this "solid".
"The force was indescribable, it was like being hit by a car," he said.
"I could see the head of it on the back of the ski and the fin was …"
FOR THE FULL STORY GO HERE:
http://www.theherald.com.au/news/local/news/general/surf-skiier-escapes-great-white-shark-off-redhead/2581106.aspx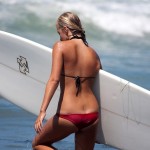 Become A Sponsor!
If you have a product or service that is a good fit for our surf community, we have opportunities for you to sponsor this blog!
Download our media kit now!