WTF is wrong with people…
VIA – ENCINITAS PATCH
Surfboard Maker Recovering After Encinitas Beating
Mark Wisdom Says He Suffered A Broken Jaw During Attack
POSTED: 11:14 pm PDT August 22, 2011
UPDATED: 11:42 pm PDT August 22, 2011
ENCINITAS, Calif. — A well-known surfboard maker suffered a broken jaw after he was viciously attacked and beaten in Encinitas on Sunday.
Mark Wisdom told 10News he was walking across the street near the corner of La Veta Avenue and Marcheta Street at about 3 a.m. Sunday.
"This was just brutal and it was violent," he said.
just to protect myself in a fetal position," he said.
Wisdom also said he kept saying his name, hoping if it was a case of mistaken identity, the attackers would stop.
Then, he said he heard a voice.
"I heard a female's voice saying, 'Stop, you're going to kill him,'" he said.
Wisdom's face was fractured in several places and needs six titanium plates during reconstructive facial surgery.
Several years ago, Wisdom said he left his corporate job to follow his passion and create surfboards like his father did when he was younger.
Though he followed his passion, for Wisdom, it meant giving up a steady paycheck and health insurance.
Now, he said he cannot work because shaping boards requires wearing a mask.
For the full story, go here:
http://www.10news.com/news/28946019/detail.html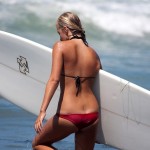 Become A Sponsor!
If you have a product or service that is a good fit for our surf community, we have opportunities for you to sponsor this blog!
Download our media kit now!