VIA – NEWS JOURNAL ONLINE
Volusia, Flagler officials say dangerous surf biggest concern from Irene
August 24, 2011 12:05 AM
Hurricane Irene is expected to pass Volusia and Flagler counties on Friday with its center roughly 200 to 250 miles offshore, far enough away to prevent significant winds and rain but close enough to rough up coastal waters and test the nerves of some local emergency officials and residents.
However, buoyed by forecasts from the National Hurricane Center and National Weather Service late Tuesday, local officials said it appears the worst the Volusia/Flagler area will face on Thursday and Friday may be high seas, erosion and rip currents.
With each new forecast track on Tuesday, the center continued sliding Irene's probable path to the east, further reducing the possibility of damaging winds and rain.
"If this trend continues, we're looking at the primary concerns of a really rough ocean, possible beach erosion and very strong rip currents," said Troy Harper, chief of emergency management for Flagler County.
The ocean is expected to pound coastal areas during abnormally high tides for more than 48 hours, causing potentially severe erosion, as well as creating dangerous rip currents that could be hazardous to swimmers and surfers, the Weather Service said.
Breaking waves of 8 to 10 feet or higher are possible at beaches, the weather service said.
That activity is expected to arrive with the high tide just after 5:30 p.m. on Thursday and continue through Saturday, said Scott Spratt, warning coordinator for the National Weather Service in Melbourne.
Depending on the proximity of Irene's outer bands to the coast, tropical storm conditions are possible in the two-county area on Thursday night and Friday, the weather service said. Isolated storms, with pockets of tropical storm force winds, may occur throughout the area, with heavier squalls along the coast.
But much of Irene's worst winds are on the northeast side of the center, even farther to the east of Volusia and Flagler.
Irene is expected to rake the Outer Banks of North Carolina on Saturday, then travel north along coastal Maryland and New Jersey on Sunday. It would be the first hurricane to make landfall in the United States since Ike hit Texas in 2008. Charlie Craig, director of emergency management for Volusia County, said he had no concerns at all Tuesday night about Irene shifting back toward Florida.
"We don't see anything that is going to change this track whatsoever," Craig said.
The weather service decided late Tuesday not to issue watches or warnings for any land areas along the Florida coast. However, watches and warnings were issued for coastal waters and for the Atlantic Ocean farther offshore.
All along the beach Tuesday, officials and residents said they wish and hope for the best.
In Flagler Beach, where a stretch of A1A is particularly vulnerable to pounding surf, the Department of Transportation plans to watch the coastal highway carefully. Earlier this year the department shelved plans for a steel seawall along the roadway after residents said they feared it would ruin the beach.
"We're just keeping an eye on it and making sure that it's safe for travel and if it becomes unsafe, than we would consider closing it," said April Heller, a public information specialist for the department.
At The Breakers Restaurant in New Smyrna Beach, the staff was happy to hear the hurricane will pass far offshore.
"From what we're watching, we're not expecting much," said manager Linda Webb. The popular beachfront eatery was closed for more than six months after the trio of hurricanes in 2004 eroded the beach in front of the restaurant to the point the deck collapsed.
The beach "has improved a lot," Webb said. It's now higher and wider.
"The beach is in really great shape these days, given the mild winters and lack of storms over the past several years," said Joe Nolin, director of Volusia County's coastal division.
While Hurricane Irene frays nerves for some, it's proving a boost for some local businesses, for example at Weather Guard, an Ormond Beach-based shutter business,
"We're absolutely just swamped with maintenance calls and people having us come out," said owner Doug Thomas. A large amount of the callers are people who installed the shutters six or seven years ago and haven't used them since. Thomas said when they tried to test them this week in preparation for Hurricane Irene, the shutters wouldn't work. "One of the analogies I use is it's like leaving a car for four to five years and expecting to have it go out and start right up," he said.
Reports from local hoteliers were mixed Tuesday, with some reporting cancellations and others saying business was continuing as usual.
Susan Keaveney, marketing manager for the Shores Resort and Spa, said inquiries from worried customers had abated after the track showed Irene heading to the east.
"The calls have slowed down," she said Tuesday. "Yesterday, we were inundated with a lot of calls asking what they should do and what our policy is."
Bob Hietala, vice president of hotel operations for Inner Circle Management, said the group received about 30 cancellations over six properties. Most business this weekend was from Florida, South Carolina and Georgia, he said, so he thought customers had decided it might not be the best weekend for a trip to the beach.
Stacey Bembry, front desk manager at the Topaz Motel in Flagler Beach, said she hasn't gotten any cancellations yet. However, most of the weekend's business will come in today, so they'll have a better idea by the end of the day. "I think everyone's kind of watching and waiting," she said.
At Halifax Harbor Marina, harbormaster Marc Phillips said he saw a rise in reservations Monday and Tuesday from boaters moored near Ponce de Leon Inlet who want to move up the river for safety when storm conditions arrive.
"Even if this thing doesn't hit the coast we're still going to have higher seas and higher tides," Phillips said. "It gets a little rough down by the inlet."
But boaters were taking a wait-and-see approach to securing their vessels, he said. "They're going to have to do something (today) or maybe early Thursday if they're going to do anything, take canvas down and double up their lines and check things."
Chris Kelley, dockmaster at the newly opened Marineland Marina and owner of Ripple Effect Eco Tours in Flagler County, said Tuesday the vessels at the marina haven't taken any special measures to protect themselves yet.
"It's still a little early," he said.
Because the hurricane's rough waters arrive at the height of the area's busy sea turtle hatching season, those who monitor nests along the beach in the two counties have grave concerns about the number of unhatched eggs that could be washed away if the ocean sweeps nests into the sea. Thousands of nests remain.
"I'm fearful about losing nests," said Beth Libert, president of the Volusia Flagler Turtle Patrol.
After the critical erosion problems of 2004, the sandy beach and dunes have experienced a "good comeback," Libert said. "It's filled up and we've got some really nice vegetation and dune buildup. Maybe that will help, but it depends on how rough it gets.
In Flagler County, the dolphins at the Marineland Dolphin Adventure will remain secure in their habitats, a spokeswoman said.
"Marineland Dolphin Adventure has a comprehensive weather plan that ensures the safety of our guests, employees and animals," said spokeswoman Francesca Allegra. The attraction will remain open, "business as usual," she said, unless conditions change significantly.
Today, Volusia County Emergency Management will distribute an informational message to area governments but plans little action beyond that.
"We are yielding to the science and technology of the National Hurricane Center and the National Weather Service," Craig said.
On the beach in Volusia County, the Beach Patrol could begin pulling lifeguard towers and traffic lane signs as early as later today to avoid having them swept away by the high tides, said spokeswoman Tammy Maris.
"We don't close the water to people," Maris said. "Depending on the conditions, if we need to we'll fly a red flag, which is a high-hazard."
For the full report go here:
http://www.news-journalonline.com/news/local/east-volusia/2011/08/24/volusia-flagler-officials-say-dangerous-surf-biggest-concern-from-irene.html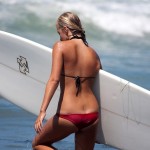 Become A Sponsor!
If you have a product or service that is a good fit for our surf community, we have opportunities for you to sponsor this blog!
Download our media kit now!