VIA – THE AUSTRALIAN

Surfboard pioneer puts 'toothpick' in the rack
Fred Pawle
From: The Australian
April 07, 2012 12:00AM
Surfboard shaper Bill Wallace with a replica Duke Kahanamoku. Picture: Glenn Barnes Source: The Australian
WHILE the world's best surfers were competing for the revered 51st Bells Beach surfing title this week, something equally historic was going down at the other end of the east coast.
Bill Wallace, of Noosa, was retiring from the surfboard industry, almost 70 years after he made his first board — a hollow, finless "toothpick" in 1942.
Toothpicks were giant boards designed for paddling, not riding waves. Wallace, who grew up in Sydney's eastern suburbs, was among the first Australians to attach a fin to a board — a shorter, hollow, wooden model he dubbed the "Okanui" in the mid 1950s.
The last board he made, which he finished in his Noosa workshed this month, was an Okanui replica. It and another wooden board, based on the one Duke Kahanamoku rode at Freshwater Beach in 1915, will be auctioned this month to raise money for the Disabled Surfers Association.
Wallace opened a factory in Brookvale, near Sydney's northern beaches, in the early 60s, from where he would ride the wave of surfing popularity emanating from California.
On his first day at the factory, while wondering how he should get his new business working, a kid approached him and asked if there were any jobs going. "When can you start?" Wallace asked. "I'll go and get my tools," the kid replied. The kid's name was Bob McTavish, now one of the most famous names in Australian surfboards.
Wallace's retirement is a huge moment, McTavish said. "He was one of the initial manufacturers," he said, adding that an original 5m Wallace toothpick takes pride of place in his house. "It's a work of art," he said.
When foam replaced wood as the main surfboard material, Wallace's factory was one of three in Brookvale that supplied a generation of kids who were embracing the southern Californian culture…

http://www.theaustralian.com.au/news/nation/surfboard-pioneer-puts-toothpick-in-the-rack/story-e6frg6nf-1226320744937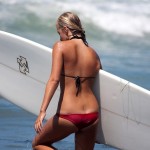 Become A Sponsor!
If you have a product or service that is a good fit for our surf community, we have opportunities for you to sponsor this blog!
Download our media kit now!